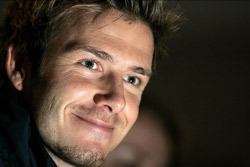 England captain David Beckham has revealed that he would like to end his career playing in Major League Soccer in the US.
Beckham, who still has one year to run on his contract at Real Madrid, envisages signing a new two-year deal with the Spanish club before moving to America in 2009.
"At some stage, playing in America is possible," said the 30-year-old, who has opened football academies in his native London and also Los Angeles.
"For me, America's so passionate and I'd like to be a part of that."
Beckham appears to be poised to sign a new deal at the Bernabeu.
"I've one year left at Real, and maybe two more after that, but things can change in football and the American league does interest me," added Beckham.
"I want to be part of a country that is passionate about sport. I've got my academy in LA which is important to me because that is my life after the game.
"America for me is one of the most passionate places. There is an incredible feeling around the country.
"I always mention when I'm asked about America about how you can walk down the street and everyone has got the stars and stripes flying in front of their house."
Subscribe to World Soccer – The essential football magazine.