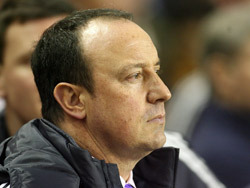 Will Steven Gerrard and his Liverpool manage to beat AC Milan in this year's Champions League final? Click here for the latest odds!
Liverpool manager Rafael Benitez is preparing for a sumer clearout at the club – even if they win the Champions League final.
Benitez's side face Milan in Athens' Olympic Stadium on Wednesday, but the Spaniard is already looking ahead to next season.
"The final has to be just a stopping point on the way," said Benitez.
"We can improve and the team must be pro-active. We can improve by bringing in players with character and quality. We need to keep going forward."
After winning the Champions League two years ago, Benitez sold Vladimir Smicer, Igor Biscan and Milan Baros, while goalkeeper Jerzy Dudek was replaced by Jose Reina and is set to leave the club with striker Robbie Fowler this summer.
The former Valencia coach is set to be handed a big transfer fund by new American owners Tom Hicks and George Gillett as he sets his sights on winning the Premiership.
"A second Champions League final in three seasons shows what can be done but we want to achieve even more," added Benitez.
"This is going to be an important summer because we want to maintain our progress and keep going forward next season.
"Another European Cup would be very welcome but the aim is not just to win this trophy, it is to be stronger all round, so we can make a better challenge for the Premiership next season.
"I am happy with my players but we need to improve to challenge in the Premiership.
"It is important not to think that by getting to the final we have done everything because we have the potential to be one of the biggest clubs in Europe in every way.
"We are already one of the most famous names in football but we have the chance to take advantage of our position.
"The new owners have already seen what is possible here. Every time we have spoken, it has been positive, and we will talk again after the final."
Owner Hicks, meanwhile, has confirmed he and Gillett will support Benitez in the transfer market, with reports claiming that £40m will be made available for new acquisitions.
"I know we will make changes," Hicks told the Liverpool Echo. "I think Rafa will be a very busy man after Wednesday.
"Next year we want to contend for both the Premiership and Champions League. Actually, we want to challenge for all four competitions.
"In the Premiership, you need a depth of players and motivated players. There's no problem finding the motivation to beat Barcelona or Chelsea.
"We know we have to have more consistency."
Will Steven Gerrard and his Liverpool manage to beat AC Milan in this year's Champions League final? Click here for the latest odds!