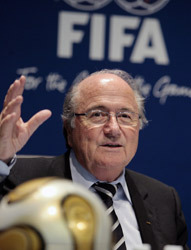 Save up to 33% on a subscription to World Soccer
FIFA president Sepp Blatter has vowed to create a a more open and transparent governing body if he is elected for a fourth term.
Blatter's policies were heavily criticised after the surprise vote to hand Qatar the 2022 World Cup.
The Swiss's bid is being challenged by Mohamad bin Hammam, the president of the Asian Football Confederation (AFC) who has pledged to expand FIFA's decision-making process and introduce a "more fair distribution of revenue and increased transparency".
In a letter on insideworldfootball, Blatter conceded that better communication with the outside world is essential.
"The results of communicative ineptitude can be devastating for all those in an organisation who are decent and hard working," he said.
"It is always a few who destroy lives and the image and reputation of many."
FIFA has often been criticised for being immune to criticism, especially over the way its finances are handled.
But Blatter says he is willing to address this by publishing FIFA's annual figures in more detail.
"If we at FIFA have failed to explain our work sufficiently well over a period of time, then that is a reality I am willing to accept and will actively seek to remedy," said Blatter.
"I am proud to state that it was under my leadership as FIFA President that we started to publish our figures for the world to see in 2003 for the first time – and have adhered to that policy ever since, and in ever more detail.
"But that is not enough.
"Which is why, also under my tenure, I proposed to publish FIFA's Annual Activity Report which adds even more detail to the Financial Report, and covers all areas of our corporate affairs, FIFA's corporate social responsibility programmes and the innumerable projects we conduct, administer or have launched around the world."