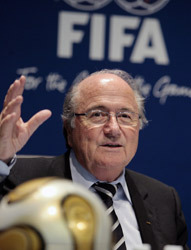 Man Utd are now a BestPrice 7/4 after beating Arsenal 1-0 at Old Trafford.
FIFA president Sepp Blatter has angered gay rights groups by suggesting that gay fans travelling to the 2022 World Cup in Qatar should "refrain from any sexual activities".
Blatter, apparently joking about a country in which homosexual activity is banned, said: "I would say they [gay fans] should refrain from any sexual activities."
On a more serious note, Blatter added: "I'm sure when the World Cup will be in Qatar there will be no problems."
The Islamic country of Qatar was the winner of the race to host the 2022 World Cup, beating Australia, Japan, South Korea and the United States when the 22-man FIFA executive committee voted in their favour in Zurich on 2 December.
FIFA has since come in for criticism after the decision to take the World Cup to the Middle East for the first time.
Gay groups are worried about the welcome afforded to homosexual fans, with the Gay Football Supporter's Network saying at the time of Fifa's decision: "We strongly condemn Fifa's decision and will be leading a LGBT [Lesbian, Bisexual, Gay and Transgender] boycott of all activities associated with World Cup 2022.
"We do not feel the World Cup should be held in any country that abuses and disregards the basic human rights of LGBT people."
But Blatter does not foresee any difficulties, saying: "You see in the Middle East the opening of this culture, it's another culture because it's another religion, but in football we have no boundaries.
"We open everything to everybody and I think there shall not be any discrimination against any human beings be it on this side or that side, be it left, right or whatever.
"If they want to watch a match somewhere in Qatar 2022, I'm sure they will be admitted to such matches."
Blatter says even if there are problems, there is still plenty of time to sort out any issues.
"I think there is too much concern for a competition that will be done only in 12 years," he added.
"But this gives me the opportunity to say that in Fifa, and this is in the statutes of Fifa, whether it is in politics, whether it is in religion, we don't want racism, and we know what this means, and neither do we want discrimination.
"What we want is just to open this game to everybody and open it to all cultures and this is what we are doing in 2022."
Man Utd are now a BestPrice 7/4 after beating Arsenal 1-0 at Old Trafford.
A subscription makes the Christmas perfect gift. Give a lasting gift this year and save up to 33% when you subscribe.