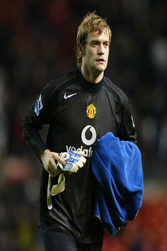 Spurs boss Martin Jol said his team were "robbed" at Manchester United after Pedro Mendes' shot clearly crossed the line but a goal was not awarded.
"The referee is already wearing an earpiece so why can't we just stop the game and get the decision right," said Jol after the 0-0 draw.
"But at the end of the day it's so obvious that Pedro's shot was over the line it's incredible.
"We feel robbed but it's difficult for the linesman and referee to see it."
Carroll clawed the ball back into play and the referee Mark Clattenburg waved play on to deny Tottenham what would have been a decisive goal.
Replays of the incident clearly showed that a goal should have been awarded.
Even United boss Sir Alex Ferguson admitted Spurs had been unfortunate.
"It just adds weight to the point about technology being brought in.
"I don't think you can blame the referee or the linesman because I wasn't sure myself that the ball had crossed the line."
Arsenal boss Arsene Wenger threw his weight behind calls for the use of video evidence.
"When the whole world apart from the referee has seen there should be a goal at Old Trafford, that just reinforces what I feel – there should be video evidence," he said.
"It's a great example of where the referee could have asked to see a replay and would have seen in five seconds that it was a goal."
Jol refused to blame the officials for their error.
"It was hard for both the referee and linesman to see what had happened which makes it even more important for changes to be introduced," the Dutchman added.
"We talk about new technology all the time but nothing seems to happen yet it would be so easy to put something there on the line to help the game.
"But I'm pleased with the way we played. We made it difficult for United to score.
"The ball was definitely over the line. I thought it was from where I was standing and I suppose it has cost us the game.
"Looking at the incident now the ball was 2ft over the line. We are in the year 2005 and shouldn't have to be having these discussions. Where is the technology?
"I'm proud of my team. We got a point but should have had all three."