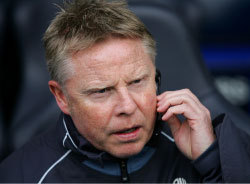 Help us with a Sport and Betting Survey! Click here to take part now.
Bolton Wanderers have appointed Sammy Lee as their new coach.
Lee, 48, takes over following the shock resignation of former boss Sam Allardyce on Sunday.
"I'm delighted about the prospect of being Bolton manager," said Lee.
"It is a great legacy that Sam has left and it is my job now to carry that forward."
"It took me one second to decide to accept the job after it was offered to me."
The new role for lee is his first job in management after a coaching career with Liverpool, England and Bolton.
"I am very proud to be sat here in front of everybody as the new manager of Bolton Wanderers," he stated.
"The education I've gained from working with Sam Allardyce has been immense.
"I have to continue what Sam has started, that's first and foremost, and then re-evaluate it after that.
"It certainly is a healthy position that Bolton are in, we're now contesting for a place in Europe.
"The main thing for us is to keep the players stable and to make sure that we get the result we firmly feel we deserve after all the hard work we've done this season."
Transfer funds not an issue
Bolton chairman Phil Gartside dismissed reports that Allardyce left the club because of a lack of funds being made available fosr new players.
"There has been speculation about funds," the Bolton chairman said.
"But if you look at where Bolton are in the Premiership and where they have been over the last few years, there must have been some funds available.
"Look at last summer, when we brought in a world-class striker in Nicolas Anelka and Abdoulaye Meite too, so I would like to put it on record that funds have been available.
"However, to go from fifth to fourth place in the Premiership isn't about another £10m, it's about £100m.
"We work within our resources and it is based on what we can afford to put in."
Gartside was also quick to quash speculation that Allardyce quite because he had lined up another job after being linked with Manchester City and Newcastle United.
"Sam told me he hasn't got another job," insisted Gartside.
"But today is about Sammy Lee being appointed manager. I respect Sam's views of why he has left.
"You couldn't look back on the last eight years without a lot of enjoyment and pride. We've taken Bolton Wanderers to a level we've never been at before.
"Now I'm looking forward to a different era. It is not a complete surprise. When Sam had a great chance of getting the England job a year ago we talked about what we could do then."
Allardyce quit as Wanderers boss on Sunday after eight years in charge.
"I'd have liked it to be the end of the season, but unfortunately some things don't stay private," he said.
"It wasn't to be because all the speculation would have carried on. We decided yesterday was a good time.
"It's time for Sam Allardyce to take a break. I've made one of the biggest decisions I've ever made, and once I make it, I stick to it."
Help us with a Sport and Betting Survey! Click here to take part now.