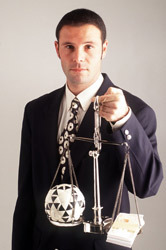 Man Utd close the gap on Liverpool to just two points, with one game still in hand. See all the latest BestPrice betting.
The future looks brighter for recovering alcoholic Jean-Marc Bosman, the player whose actions changed the course of football history in the 1990s. But as Leander Schaerlaeckens discovers, Bosman believes player power could be on the wane.
"This six plus five business would be a disaster," he says animatedly, before I even ask him a question, referring to FIFA president Sepp Blatter's plan to limit the number of non-assimilated foreigners clubs can field at the start of a match to five.
The banishing of foreigner clauses was one of the key effects of the Bosman ruling. The year that he liberated the footballer was the same year his own career ended. He was 32. He was the last player who did not get to benefit from his own victory.
"In 1995 the Bosman ruling was there," he says. "There's total freedom for the player. They can break contract any time as employees and leave. They had to pay a penalty but that was it. I won them that."
But new dangers lurk on the horizon.
"The six plus five rule would create a big problem for every English club because salaries would sky-rocket again because English players would become much more expensive," Bosman says. "On the other hand the foreigners are in trouble and many of them will become superfluous.
"Standard Liege were able to balance their budget for the year by selling [Belgium midfielder Marouane] Fellaini to Everton for 18million euros [£15m]," Bosman continues.
"They couldn't have done that without the Bosman ruling, they already have so many foreigners at Everton. He wouldn't have fitted into the [old] three plus two [foreigner] scheme. It would be a disaster in England, not just for the clubs, but for all the foreigners too. It would be even worse in smaller countries like Belgium. We're a country of 10 million, where are we going to find all those national players? Players would never leave any more.
"I'm warning the players now – we need to stand up against six plus five," Bosman says as he jumps up, animatedly flailing his arms to emphasise his point. "Think hard. Players need to act and not always let themselves be pushed around."
The European Union agrees with him. Although FIFA has approved it internally, the EU has deemed the six plus five proposal illegal several times. The European Parliament formally rejected it last May as the rules violate the European Community Treaty, Article 39, which guarantees the free movement of EC workers within the Community, and indeed the Bosman Ruling.
"[The] six plus five rule is based on direct discrimination on the grounds of nationality, and is thus against one of the fundamental principles of EU law," the European Commission stated last November.
That has not stopped Blatter and FIFA from trying to convince the EU to recognise football as an exceptional industry in which ordinary labour laws should not apply.
"We're employees," Bosman counters. "They always try to circumvent that. Football is not an exception to employment laws. It's an economic activity, and clubs are run like businesses and players are treated like employees. UEFA and FIFA don't understand that and keep trying to circumvent that. We're workers, that's what the Bosman ruling recognised."
Part of the Bosman ruling has already fallen into disrepair.
"The [governing bodies] are trying to take back power. If we're not careful, it'll be even worse than in 1995 by 2010 [when six plus five is supposed to go into effect]," Bosman says. "It'll be worse than the dark ages. They're putting everything back into place as if there never was a Bosman.
"From 1995 to 2000, Karel van Miert, the European Commissioner [for competition] gave nothing away to UEFA or FIFA – absolutely nothing.
"The Bosman ruling was followed to the letter. The problem is that in 2000 he was succeeded by Mario Monti, who wrapped up every single sports file."
That left FIFA to regulate players' contract buyouts on its own.
"So already part of the Bosman arrest is out the window," a visibly disgusted Bosman comments.
French defender Philippe Mexes felt the wrath of Monti's move. In 2004, when he bought out his contract with Auxerre, FIFA decided that the buyout would cost him £6m. Mexes was also slapped with a six-week suspension. His agent was banned for six months.
More reasonable rules
FIFA has since implemented more reasonable buyout rules. Scottish defender Andy Webster became the first benefactor when he was allowed to leave Hearts for Wigan Athletic. FIFA ordered him to compensate his former club with £625,000 but the Court of Arbitration for Sport (CAS) reduced this to £150,000.
"But it's FIFA that decides the terms of buyouts," Bosman reiterates. "Sepp Blatter called Cristiano Ronaldo a 'modern slave' but that's of Blatter's own doing. When there's a contract dispute, FIFA sets the buyout fee which a player then takes to CAS. But players give up and don't bother going because the buying club can never afford the astronomical sum for the buyout and FIFA knows it. So few players can force their freedom. The Cristiano Ronaldo case showed that.
"Footballers can't change employers like all other citizens. FIFA makes these rules but it is a prisoner to clubs who often control the national federations who appoint the FIFA directors, and Mr Blatter. All that's left [of the Bosman ruling] are the nationality clauses."
There has been progress too, though. David Beckham and Landon Donovan of Los Angeles Galaxy were allowed to join Milan and Bayern Munich respectively on loan during the American off-season, thus being allowed to play for two clubs at the same time.
"It's a freedom of sorts," Bosman concedes. "But there are still agreements between clubs. They are still transfers. And if they can do it for them, why not for everybody?"
Bosman agrees with UEFA president Michel Platini that the minimum age for transfers abroad should be raised from 16 to 18, in spite of the EU's condemnation.
"The minimum transfer age should stay at 16 within countries," he says. "I'm less for going abroad [at that age] because parents want to cash in. There shouldn't be a transfer to begin with, though."
But while the impact of the ruling on football was and still is enormous, it pales in comparison to its impact on Bosman himself.
"At first people were saying what a good job I'd done but then they started saying bad things," he says. "So I got depressed. I started drinking more and more and more. In the end I just stayed at home, sitting [in my kitchen] drinking wine and beer. I stopped doing anything.
"It was bad depression. It probably started back in 1990. I should have been on antidepressants much earlier but I never took them. I wasn't put on them until I started being treated for my alcoholism."
For much of the time during his five years in court he was penniless, living in his mother's garage after his first wife had left him, and training for his comeback in solitude.
That didn't bother him much. Born from a poor Slovenian family, he had grown up with little luxury. His grandfather had come to Belgium to work in the mines. In 1940, his grandparents and their four children were deported to a Nazi work camp. Miraculously they all survived and were reunited. The lack of recognition, however, did nag at the proud Bosman.
"People know there was a Bosman ruling but they don't realise there's a guy there who's given everything, who became an alcoholic," he says. "I thought everyone had forgotten me and left me hanging. I was just drinking to finish myself off."
Bosman finally stopped drinking on December 27, 2007 and has not touched a drop of alcohol since.
All Bosman is after now is that little bit of gratitude. "[Footballers] make lots of money now, good for them. But I'm proud. I'd like to be recognised," he says. He hopes the players will buy his T-shirts in recognition of him and wear them as a symbol of the freedom he won them.
"Players are never at the unemployment office thanks to me. By wearing this T-shirt they're saying that they won't accept their freedoms being taken away. That they won't accept being hit in the wallet.
"I'm not demanding money but we're having a baby. I need money. I'm broke.
"I fought the good fight and I've paid the price. I just want to be recognised, that's what I'm really lacking. And I don't want to have lost 12 years of my life for everything to go back to the way it was."
Why did he not become an agent?
"My job was to tell the players they could be free. Was I going to make money from them through the transfers I worked to get rid of?" Bosman asks. "I couldn't." Rather, his next projects are to quit smoking and wean himself off the antidepressants and, of course, raise a second child and build his company.
Bosman used to have two Porsches but he has had to sell them. He will have to get rid of his little sports car soon, too, but he doesn't care.
"I could drive a donkey cart tomorrow and I wouldn't care," he says. "I have a beautiful family, I'm happy and that's all that matters."
His historic ruling may yet crumble but Jean-Marc Bosman has moved on. Almost two decades on, he is whole again.
For more information about Bosman's T-shirt business, visit www.jean-marc-bosman.com
Man Utd close the gap on Liverpool to just two points, with one game still in hand. See all the latest BestPrice betting.