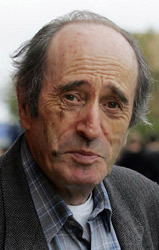 Premier League 2008/09 Outright – After winning their 10th Premier League title Man Utd are BestPrice 11/8 to retain the trophy next season. Click here for all the latest odds!
Yes, folks. We have been well and truly Blattered again.
This latest is very bad indeed, and he has already been well and truly caned for it. I never thought I would hear of "soccer slavery" after the phrase was with some relevance current in the 1940s and 1950s. But here quite shamelessly comes the President of FIFA, using the term not about the underpaid, bound hand and foot players or that remote era, but of the flourishing young millionaires of today. Such as the petulant and spoiled Cristiano Ronaldo, who insists on leaving Manchester United though his huge £120,000 a week contract has still over four years to run.
"Modern slavery," in the bizarre opinion of Blatter who declares that even the Bosman ruling, which to most of us has signified a huge and not unjustified swing in favour of the footballer; simply induces clubs to put players on longer contracts. A peculiarly asinine opinion at the very moment when Frank Lampard has been arguing with Chelsea to extend his contract!
"I'm always in favour of protecting the player," Blatter assures us, and if the player wants to leave, let him leave." Which in reality whatever the length of his contract he usually does. But hang on a moment. What had Blatter to say last February when the Court of Arbitration for Sport cut down the fine imposed on Hearts' Andy Webster, who had walked out to play for Wigan, from £625,000 to £150,000."
"The decision," thundered Blatter, "which CAS took is very damaging for football and a Pyrrhic victory for those players and their agents who toy with the idea of rescinding contracts before they have been fulfilled."
In other words, he has now shamelessly and ludicrously contradicted himself. Various possible explanations have been advanced for this absurd volte face. That Blatter may be concerned about the increased power the major clubs are gaining vis-à-vis UEFA and FIFA. That he may be cosying up to Real Madrid, where Ronaldo cannot wait to go, who last November made him an honorary member. Neither supposition can in any way explain and excuse such a radical change of front.
Shortly after this outburst, Blatter was at it again with his demands that European clubs should field five or six native born players. That, indeed, is an excellent idea but as things still stand Blatter knows perfectly well that he hasn't a hope in hell of achieving it. Under the law of the European Union, footballers are workers and all EU workers have the right to work in any and every EU country. For some years the remarkable Artemio Franchi, shrewd Italian President of UEFA, kept the EU at bay but, alas, it couldn't last, and in retrospect must be seen as a gallant and doomed rearguard action.
***************
Apart from an indiscretion about the future of Frank Lampard, which infuriated the player, Big Phil Scolari seems to have charmed the media when first facing them since becoming manager of Chelsea.
Will he do well? How can he fail to? You or I dear reader would probably do well had we the vast, infinite resources of the oligarch Roman Abramovich behind us. Even the melancholy Avram Grant did reasonably well, though not as well as his recent pronoucements seem to want us to believe. That defeat by Spurs at Wembley. That humiliation in the FA Cup at Barnsley. That absurd decision to play Michael Essien so utterly and vulnerably out of position against Manchester United in Moscow.
Big Phil is being lauded in some quarters for the dazzling football played by Brazil on their way to winning the World Cup in 2002. But the impression at the time was that this was despite him, rather than because of him; that in the end and the event, he was overwhelmed by the insistence of his several star fantasistas and let them play footballer in the best Brazilian way.
One might also remember that when this extreme pragmatist was in charge of Gremio in the South of Brazil, his well-known policy was to encourage his players to commit petty fouls in midfield – but never in their own box – to disrupt the rhythm of opposing teams. And however well Portugal played at times in the recent Euros, the fact is that, early in the year there was deep disappointment among Portuguese fans with the mediocre way their national team was playing. But of course, Big Phil will succeed at Stamford Bridge. Who wouldn't, with all that talent and money?
***************
Now he tells us! Arsene Wenger recently disclosed that given the huge repayments they have to make on their Emirates Stadium, £24 million must be shelled out every year for some 17 to come.
The corollary of this, he suggested, was that the Gunners would at long, long last be giving youth its fling. This after fielding team after team which hadn't a British player in it; despite the great sums spent on the Academy at London Colney. It is Alan Hansen who out of his experience and wisdom has assured us that you win nothing with kids; though if they turn out as splendidly as Cesc Fabregas, whipped away under the noses of Barcelona at the age of 16, you presumably have a chance.
But by an irony. Wenger was telling us all this when no fewer than three once discarded Arsenal youngsters were reportedly on the point of being transferred from their current clubs at great expense. David Bentley, sent out on loan to Norwich, having made excellent early appearances for the Gunners, has become at Blackburn one of the most talented and effective young players in England, even if his way in the national team has been so absurdly barred by the waning David Beckham.
Steve Sidwell, the red headed midfielder, found his way from Brentford to Reading to Chelsea where his way was blocked by more notable names, but now Aston Villa has pursued him. Wanted too, is his former Highbury midfield colleague, James Harper. Like Sidwell himself, a success in the Premiership at Reading.
The world is that Arsenal indeed have a number of talented young Englishmen straining at the leash, with Wenger telling us that half a dozen or so may be promoted to the main squad. Let's hope so. In far off days, the Gunners, though heavy spenders, brought through many a young star. Eddie Hapgood, left back and captain of England. George Male, his colleague at right back. Denis and Leslie Compton. Cliff Bastin, who cost at 17 a nominal fee from Exeter City, but almost immediately displayed his huge abilities.
Post war, the fulcrum of the attack, little inside right Jimmy Logie. That elegant Welsh centre half Ray Daniel, whose brother, Bobby, himself such a promising young player, was killed in the war on an RAF bombing raid excelled. More recently, three famous Irishmen in Liam Brady, David O'Leary and Frank Stapleton. Plus three exceptional black players in Paul Davis, David Rocastle and Michael Thomas. Times, indeed, have changed, but it would be reassuring to see in the near future Arsneal teams with a substantial complement of British players.
Premier League 2008/09 Outright – After winning their 10th Premier League title Man Utd are BestPrice 11/8 to retain the trophy next season. Click here for all the latest odds!