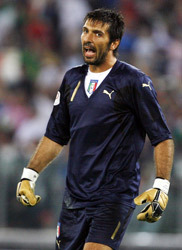 Gianluigi Buffon has brought to an end the speculation over his future at Juventus by signing a contract extension with the Italian giants.
Buffon had been linked with Juve's rivals Milan, but Buffon has has now publicly committed himself to new manager Claudio Ranieri by signing a new deal.
"It is an important day for me, because I have written a new page in my career and life," Buffon told the club's official website.
"It is a choice in line with what I decided last year that confirms my attachment to this team, to this company and to Juventus fans who have never failed to show their affection for me.
"The project that I have seen is convincing because the company has set goals in which I believe and that creates the conditions for an increasingly stimulating relationship."
Buffon had wanted guarantees that Juve's ambition matched his own, and the club's chief officer Jean-Claude Blanc is now expecting the his re-signing to send out a signal that the Bianconeri will be competitive next season.
"Today we have achieved another important result, as keeping Gianluigi Buffon at Juventus was one of the key points of our plans for the coming years," said Blanc.
"The fact that the World Cup champion goalkeeper has shown his confidence in our sports project and shares our ambitions is a matter of great pride.
"For Juventus this confirms the seriousness with which we are building a competitive team for the next season."