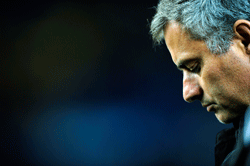 Save up to 33% on a subscription to World Soccer
Former Real Madrid president Ramon Calderon believes Jose Mourinho's days as coach of Real Madrid are numbered, claiming the manager's recent controversies have been "harmful" to the club.
Mourinho saw his side eliminated from the Champions League to arch-rivals Barcelona from his hotel room, after being banned from the touchline.
The former Chelsea boss, who was sent to the stands during the first leg, made a string of claims in the wake of the 2-0 defeat last week, notably that Barca had been on the receiving end of favourable treatment from UEFA.
Calderon believes Mourinho would have been better served congratulating Barcelona.
"I think what he did in terms of talking about UEFA and referees is not acceptable at all," Calderon told Radio Five Live. "It doesn't match with Real Madrid's history.
"I assume that he's a very, very good manager, but talking like that has been harmful for Real Madrid.
"I think big clubs can never blame the referee for their defeats. I think the semi-final was over in the first match at the Bernabeu when we lost 2-0.
"We invested €450 million in the last two years to build a very important and strong team, so if you lose you can't blame injuries, bad luck, the referee… If you lose, you have to congratulate your rival."
With Barca expected to clinch the Spanish title in the coming weeks, Calderon is unsure of Mourinho's position at the Bernabeu.
"It is difficult to succeed here because people are very demanding," he said. "There's a lot of pressure here. He said he's going to [continue] in his position next year, but you never know."