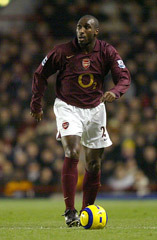 Arsenal defender Sol Campbell has returned to training for the first time since walking out of Highbury.
Campbell left the ground after being substituted in Arsenal's 3-2 defeat to West Ham, missong out on the 2-0 win over Birmingham on Saturday.
"We will help Sol to bounce back quickly and to focus and concentrate on the game of football, which is the best cure," said Arsenal boss Arsene Wenger.
Meanwhile, Campbell's England team-mate, David Beckham, is confident Campbell has the strength of character to emerge from his current travails.
"Sol is a strong-minded person and he will do what he wants and what he thinks is best," Beckham said.
"You do not become a bad player just because of two or three bad games."
Beckham expects to face Campbell when Madrid take on Arsenal in the Champions League later this month.
"He is at a great club and has a great, strong manager with him in Arsene Wenger," he added.
"I would love him to be playing against us, because he is one of my closest friends and because he is a great player – and you want to play against the best."
Subscribe to World Soccer – The essential football magazine