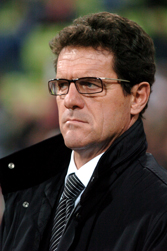 Juventus coach Fabio Capello believes the weather is to blame for British footballers having technically inferior to their European counterparts.
The Italian believes teaching the necessary skills to players in Britain is severely hampered by the climate.
"It's all about the climate," Capello is quoted in former Chelsea manager Gianluca Vialli's book 'The Italian Job', serialised in The Game.
"I had a long discussion about it when I went to Scotland to see Andy Roxburgh. I worked with a Scottish youth side and had them do the same drills I would do in Italy.
"I realised that, between the wind, the rain and the cold, there was no way they could do it. How can you possibly teach anybody anything in those conditions?
"To me, it's pretty obvious and it explains why Brazilians are more technical than Europeans and, in Italy, the further south you go the more technical they are."
Arsenal boss Arsene Wenger concurred with Capello, suggesting the wind, in particular, makes technical work nigh on impossible.
Wenger said: "One of the first things I had to get accustomed to as soon as I arrived in England was the weather.
"And I don't mean the temperature or the rain, but, most of all, the wind. The wind ruins everything.
"It forces you to do only one type of exercise. It forces you to work on either speed or continuous movement.
"It's very rare that you get the chance to sit calmly and work on technique or on tactics."
Subscribe to World Soccer – The essential football magazine.