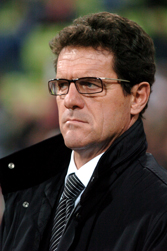 New Real Madrid president Ramon Calderon hopes to appoint Fabio Capello as coach by the end of the week.
Capello, 60, has claimed successive at Juve, but with club at the heart of the Italian match-fixing inquiry, he is expected to move on.
"He has gone to Turin to resolve his contractual situation with Juventus," Calderon said of Capello, who led Real to the Spanish championship in 1997.
"He will be here in the next few days to begin his new work."
Calderon pledged during his campaign to bring the Italian back to the Bernabeu this summer.
The new president was elected following a controversial vote on Sunday.
"He (Capelllo) has no problems leaving Juventus because he has a series of clauses that allow him to do so," said Calderon.
"Real Madrid will not have to pay a fee to get him."
Calderon also intends to bring in several players, including Arsenal's Cesc Fabregas and Chelsea's Arjen Robben, as well as Brazilian playmaker Kaka from Milan.
"We have to be cautious, but I hope the three you know – Kaka, Cesc and Robben – will play here," he said.
"Others will come, just as others will leave.
"With Kaka, we will have to negotiate between both clubs but if all goes as I hope that it does, he will play here next season."