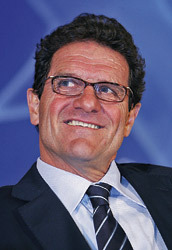 Man Utd and Arsenal affect outright betting on the Premier League Title!
New England coach Fabio Capello has vowed to take the national team "right to the top" after being unveiled by the Football Association.
Capello said: "I have wanted this job for a long time and I know there are great expectations that go with it.
"My first objective is to meet the players and the club coaches in the Premier League. England has a great team that can go right to the top."
Capello, who has signed a four-and-a-half-year contract worth £6.5m a year, said it was a "dream come true" to take the England job.
Although he required a translator for his first press conference he said he is determined to improve his English before February's friendly against Switzerland.
"I am convinced that in one month when I meet up with the squad for the first time, I will be able to speak English," Capello explained.
"I believe it is very important to communicate with players and I will undergo a strict routine to learn the language – I will apply myself every day."
The former Milan and Real Madrid coach will speak to the players and ask them to explain why they think the team has underperformed in recent years.
"I'm going to try to understand what happened by talking to the players," he added. "I believe that wearing the England shirt should be a matter of pride – I want to see all players playing for England like they do for their clubs."
Capello says he is confident he can gain the co-operation of Premier League managers too.
"It is very different," Capello said.
"My behaviour will have to change, as will the players.
"I have always had an excellent relationship with Sir Alex Ferguson and Arsene Wenger and also the two Spanish managers Rafa Benitez and Juande Ramos.
"I've always had a fantastic relationship with such individuals, it will be no problem in working alongside them."
Capello is also keen to add an English coach to his backroom staff, saying: "From the first day I spoke with Sir Trevor Brooking, I have always asked for an English coach to be integrated into the set-up.
"It is something I have done wherever I have been – it is vital have someone from that environment who understands English football and the language."
Capello was asked about former captain David Beckham's hopes of winning his 100th cap against Switzerland and continuing his England career until the 2010 World Cup.
During his time at Real Madrid, Capello initially dropped Beckham but recalled him to play an instrumental role in his title-winning team.
Capello said: "I had a contrasting relationship with David Beckham at Real but in the end he demonstrated what a great man and great player he is.
"Also, he is the kind of person I believe, when he sets himself something he will achieve it so you never know but obviously I will have to make choices.
"I believe David's behaviour is important.
There has also been speculation over Chelsea defender John Terry's future as England captain under Capello, but the Italian said he had not yet made a decision about the identity of his captain.
"I have just arrived," Capello said. "There are many things I have to think about, I have got over a month and I will make my decision."
Man Utd and Arsenal affect outright betting on the Premier League Title!