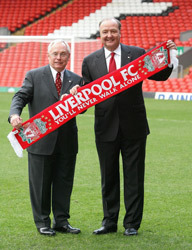 With the new found wealth at Man City have they got enough to compete with Chelsea when the pair meet this weekend?
Jamie Carragher has launched a withering attack on Liverpool owners Tom Hicks and George Gillett, saying he has been disappointed by their broken promises and profiteering.
Carragher hit out at the pair after it emerged that Hicks and Gillett have failed to keep their promises of building a new stadium and pledging money for transfers and could already have profited by nearly £100million each.
"For richer or poorer, we'd sold Liverpool to two ruthless businessmen who saw us as a money-making opportunity," Carragher writes in Carra: My Autobiography.
"They didn't buy Liverpool as an act of charity; they weren't intent on throwing away all the millions they'd earned over 50 years… They wanted to buy us because the planned stadium offered a chance to generate tons of cash and increase the value of the club.
"Think how many world-class players that £200million could have brought to the club. Instead if Gillett and Hicks did sell, they or their banks would make a huge profit.
"I felt ill thinking about it."
Carragher said the owners' biggest mistake was the misleading claim that club would not be liable for any debt as a result of the takeover.
"Breaking this vow set the first alarm bells ringing, the embarrassing continual changing of the stadium plans was irritating too," added Carragher.
The defender also admitted that Liverpool boss Rafa Benitez had to take some of the blame for the confusion that surrounded the club last season.
Benitez called on the Americans to invest more in the the team and Carragher claims the Spaniard's outburst created unnecessary turmoil.
"These words sparked a chain reaction that brought problems into the open, almost cost (Benitez) his job a couple of months later, riled Liverpool's owners into an ill-fated meeting with Jurgen Klinsmann, and ended Hicks' and Gillett's honeymoon with The Kop," noted Carragher.
"I understood why the owners were unhappy with him too. They'd been undermined by Rafa and now they were undermining him.
"It was a political rather than football battle, and although the fans wanted to see it in black and white terms, with the owners the bad guys and Rafa their hero, I saw far more shades of grey."
With the new found wealth at Man City have they got enough to compete with Chelsea when the pair meet this weekend?