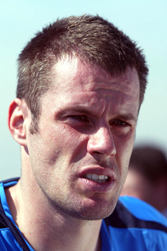 Jamie Carragher has defended his manager Rafael Benitez after Liverpool lost out to Newcastle in their attempt to re-sign Michael Owen.
The European champions were unable to match Newcastle's £17m bid for Owen.
"I'm not sure if there will be a bit of criticism because we haven't signed him but we've spent a lot of money on strikers," said Carragher.
Carragher believes Owen will have a "huge impact" at Newcastle, and said he was surprised the striker had not been able to hold down a regular place at Real Madrid.
"You don't want to criticise a club like Real Madrid, but it's unbelievable not to play him when you look at his goal ratio," said Carragher.
"I'm sure you won't see Robinho or (Julio) Baptista doing more than he did in the time that he had. Maybe it's because he doesn't do backheels or flick the ball over people's heads.
"But the most important thing in the team is putting the ball in the back of the net and Newcastle have got one of the best around at doing that.
"He's a great fighter and I'm sure he'll show that at Newcastle. With him and Shearer together, it's going to be tough playing at St James' Park with the crowd behind them."
Following the departure of Milan Baros to Aston Villa, Liverpool areleft with just three main strikers to choose from – Djibril Cisse, Fernando Morientes and Peter Crouch.
But Carragher added: "We've got to have respect for the players at our club and hopefully they can do the damage for us. We've got a lot of good strikers."
Liverpool also failed in their bid to sign Benfica winger Simao Sabrosa after the two clubs failed to agree a fee.