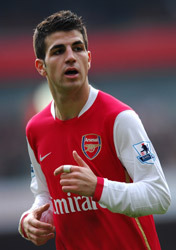 Simon Hopper picks out the key betting facts for the weekend Premiership fixtures – see his top tips and all the best prices here
Cesc Fabregas has once again confirmed that he is happy with life at Arsenal.
The Gunners skipper is constantly linked with a move back to Spain, with both Real Madrid and his former club Barcelona said to monitoring his situation.
Barcelona midfielder Xavi said yesterday he expected Fabregas to return to the club where he began his career.
But whilst Fabregas remains flattered, he insists that he is focused on Arsenal alone.
"It doesn't upset me what Xavi says, not at all. It is very flattering from a great player like Xavi," he told The Sun.
"But I am the captain of Arsenal and I have a job to do here. Everyone has their own life and you do what you feel is better for you.
"Being at Arsenal is the best thing for me at the moment. I want to win things here and I'm very comfortable with Arsenal.
"I love London, it's a great city, it's like my house, it's really good.
"It is very important for a player to feel at home and I feel like that."
Fabregas joined in the praise of his boss Arsene Wenger, who became Arsenal's longest-serving manager earlier this week.
"Arsene is, without doubt, the best coach Arsenal has ever had and we are very happy he is our manager," he said.
"The longer he's at Arsenal the better it will be. He's a God here, a God.
"The chairman and everyone can be relaxed because they know he will always be positive for the club.
"The boss will never be 100 per cent happy with what you do.
"If he sees that you are thinking you have reached the top level, he will show you a video and say how you should have done something differently.
"He goes one by one through all the players after a team meeting about what he expects of each of us.
"I know I need to be better defensively and that I still have a lot to learn and to give defensively.
"It's one of the points I need to be stronger on to be a complete midfielder.
"I have to work with the final pass as well and give more support to my team-mates.
"Arsene has always been really good to me but he can still be annoyed with me.
"I don't expect that because he brought me here when I was 16 he won't tell me I'm doing things wrong. I want him to do that because I want to be a better player.
"He loves football and watches it all the time and he sees things you didn't see yourself."
Fabregas remains confident that the current Arsenal squad is ready to end their trophy drought having not any silverware since 2005
"I have the same faith in this team that Arsene Wenger has – definitely," he added.
"I train with them every day, I live with them every day and you can see the quality. We believe we can do it.
"You see things you don't see very often, there are some special talents here.
"If you don't believe, why play football? We play to win. We believe we can achieve things.
"We are working hard and we believe we can do it.
"But I don't want to talk about trophies and say this year we will win something.
"We just want to focus on each game and if we do that we will have a chance.
"The team can be better, the players are one year older, and we are playing tough teams. But we are learning all the time."
Simon Hopper picks out the key betting facts for the weekend Premiership fixtures – see his top tips and all the best prices here
For more fascinating features, subscribe and save 30% and use the below link?