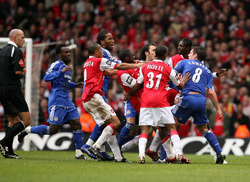 Win FREE tickets to the Cheltenham Festival as well as up to £1,000 in FREE BETS. Click here for more info!
Arsenal and Chelsea are awaiting Football Association action after the Carling Cup final ended in a brawl.
The Gunners had Kolo Toure and Emmanuel Adebayor sent off, while Chelsea's Mikel Jon Obi was also dismissed after players from both sides became involved in the melee.
Arsenal boss Arsene Wenger and Chelsea manager Jose Mourinho both ran on to the pitch to try to calm the players.
"I am sure the players will be punished," admitted Wenger. "Will it be once or twice? With the FA you always have a good chance to worry."
Mourinho said the incidents were disappointing but understandable.
"Sometimes mature people lose control of their emotions," he said.
"You cannot kill a player because something happened. If Mikel did something wrong, it is not my job to kill him, it is my job to educate him."
Referees' chief Keith Hackett praised the way referee Howard Webb dealt with the incident.
"Howard and his assistants had a good game on that incident which was out of character from the rest of the match," said Hackett, general manager of the Professional Game Match Officials Board.
"They dealt calmly and firmly with it and after consultation Howard took appropriate action.
"His report will go into the FA today and they will look at those unseemly situations that arose. It was a pity because it was a fantastic game."
Hackett also criticised the two managers for becoming involved.
"This will be looked at by the FA. It was done with all good intentions but what we need is for those other than players to stay off the field, apart from security."
"What happened is not my responsibility or Arsène Wenger's responsibility," said the Portuguese. "If sometimes mature, adult people – managers – lose our emotional control and do things sometimes that we shouldn't do, we cannot kill a player because something happened."
"My player with a red card was John Obi Mikel. If he did something wrong it is not for me to kill him, it is for me to educate him.
"The last 10 minutes was emotional for Arsenal and emotional in the wrong way. I do not think that now is the time to find who is guilty or not guilty. It's time to think about the good things in the game. It had very good things for us, especially the most important thing in finals: that the cup goes home with us."
The brawl began when Toure was pulled back by Mikel, prompting an angry reaction from the Arsenal defender.
In the ensuing melee, Emmanuel Eboue appeared to hitwith Wayne Bridge, leaving the Chelsea left-back on the ground.

Win FREE tickets to the Cheltenham Festival as well as up to £1,000 in FREE BETS. Click here for more info!