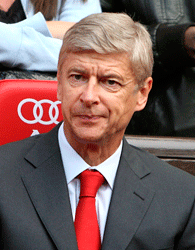 Man United are now a best price 4/6 for the Premiership after their 3-1 win over Aston Villa last night
Arsenal manager Arsene Wenger has criticised Premier League rivals Chelsea for spending lavishly in January despite endorsing UEFA's new financial regulations.
While Wenger resisted the temptation to spend, he was shocked by Chelsea's huge £71.3 million double signing of Fernando Torres and David Luiz from Liverpool and Benfica respectively.
The outlay came in a bid to boost Chelsea's faltering challenge for the Premier League title, but Wenger believes that after endorsing UEFA's regulations, the Blues' transfer activity was somewhat hypocritical.
"Chelsea supported UEFA's financial fair-play proposals but in the morning they announced a £70 million loss and in the afternoon they buy £75m worth of players. Where's the logic in that?" Wenger said.
"It's hard to guess. Officially they vote for financial fair play but they can explain why they have done this much better than I can."
Wenger believes that even though UEFA's financial fair-play regulations come into effect from next season, Chelsea owner Roman Abramovich will continue to spend in the summer.
Asked if the Blues' transfer activity was a sign that they were falling behind the other title challengers, Wenger said: "He [Abramovich] can tell you why but that's how you can read it from the outside. If you don't invest for a while, it looks as if you're not as involved in it any more. That he doesn't like it as much. But £75 million means more will come.
"Abramovich was a bit in no man's land where nobody could guess if he wanted to still invest or not. He has been like that for a long time but that has changed. He has decided to put big money in again and that tells you in the summer more will come. He is back to full investment."
Wenger's starting line-up in the 2-1 victory against Everton on Tuesday cost just £40 million to assemble, incredibly, £10 million less than Torres alone cost Chelsea – and it was a fact that appeared to bring the thrifty Frenchman great pleasure.
"That's why I sat back in my armchair on the bench and watched with satisfaction," Wenger said. "Chelsea and Manchester City are obviously special cases. It looks like Chelsea are back on the market, which they weren't for a while. But they have the financial potential to do this."
Though Wenger questioned Chelsea's transfer policy, UEFA have stressed that clubs are under no obligation to cease big-money deals, provided they can balance their books.
A statement on the recent spending read: "UEFA is aware of the recent transfer activity across Europe. It must be noted, however, that the financial fair-play rules do not prevent clubs from spending money on transfers themselves but rather require them to balance their books at the end of the season.
"We have full confidence that the clubs are increasingly aware of the nature of the financial fair-play rules, which aim to encourage clubs to balance their incomes and expenses over a period of time covering four to six transfer windows."
Man United are now a best price 4/6 for the Premiership after their 3-1 win over Aston Villa last night
Take advantage of the sales by saving up to 36% on a subscription to World Soccer