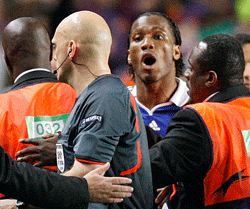 After a dramatic night at Stamford Bridge it's Barcelona that will head to Rome to face Man Utd in this season's Champions League Final. See the BestPrice outright betting here.
Chelsea will learn next week the extent of the disciplinary charges they will face as a result of the chaotic scenes that followed their Champions League encounter with Barcelona at Stamford Bridge.
The Blues had four penalty claims turned down during Wednesday's 1-1 draw which saw Barcelona secure a place in the final courtesy of an injury-time goal by Andres Iniesta.
A statement on Uefa's official website read: "With regard to the UEFA Champions League semi-final second leg between Chelsea FC and FC Barcelona in London on Wednesday, UEFA has received both the referee's and delegate's report.
"UEFA is currently examining those reports, as well as gathering additional evidence.
"It will decide which action to take in the course of next week.
As many as four Chelsea players could face individual charges after harrassing referee Tom Henning Ovrebo and for their post match comments. The London club could also face a charge of failing to control their players.
Didier Drogba is facing the stiffest sanction following his confrontation with Ovrebo on the pitch and in the tunnel.
Michael Ballack could also be charged for running 40-yards to confront the Norwegian referee after the fourth penalty appeal was turned down during the game – an act for which he was yellow-carded.
Chelsea full-back José Bosingwa faces sanctions for describing the official as a "thief" who was "bought", although he has since retracted those comments, while skipper John Terry also criticised Ovrebo as emotions ran high at the end of the semi-final.
A UEFA spokesman said: "We will see the report from the referee and match delegate before deciding whether to take any action or not."
"Drogba could be banned for a number of matches, we don't know how many. It would be decided by a controlling body, if they decide to open the decision.
"We get the report and maybe look at video evidence and then they can take actions against specific players."
Chelsea manager Guus Hiddink, along with opposite number Pep Guardiola, questioned some of the referees decisions but UEFA have refused to comment.
The UEFA spokesman added: "We never comment on the performance of the referee."
Conspiracy theories
UEFA's general secretary David Taylor was quick to dismiss conspiracy theories first mooted by Chelsea's players that Uefa had not wanted a repeat of last season's all-English Champions League final against Manchester United.
"When we get to the top level we expect better in terms of players' behaviour," said the Uefa general secretary.
"Refereeing is an extremely difficult job. All I would ask is a bit more respect is shown towards officials. Notwithstanding the high emotions, high drama, high stakes involved, these guys are out there in the middle having to make decisions just like that, on the spot.
"I spoke to [the Chelsea chief executive] Peter Kenyon at the end of the match and he fully accepts there are no conspiracies at all.
"Of course there are questions from time to time about refereeing standards, but that's looked at continually in terms of performances. That's what we do as a responsible organisation."
Taylor said: "If anything it's a media conspiracy against UEFA. It does make me angry. It really annoys me because it's a load of rubbish."
Ovrebo was smuggled out of England after the game and has been asked by UEFA not to speak publicly about the match.
After a dramatic night at Stamford Bridge it's Barcelona that will head to Rome to face Man Utd in this season's Champions League Final. See the BestPrice outright betting here.
For more fascinating features, subscribe and save 30% and use the below link?