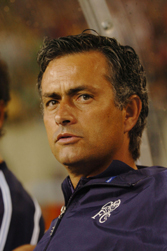 Barcelona assistant coach Henk Ten Cate has dismissed Chelsea's complaint to Uefa as "pathetic".
The Premiership leaders are expected to launch an official complaint about an alleged half-time incident during Wednesday's 2-1 loss at the Nou Camp.
At the heart of Chelsea's sense of grievance wasan allleged conversation between Barcelona boss Frank Rijkaard and referee Anders Frisk.
"To react the way Chelsea have is pathetic. Mourinho lied with the line-ups, and now this," Ten Cate said.
Uefa has said its own tunnel representative saw nothing out of the ordinary during the half-time break.
Spokesman William Gaillard said: "Frisk says Rijkaard greeted him and apologised he had not had the opportunity to say hello before the game.
"We had two Uefa officials there and neither witnessed it. The referee's dressing room was locked and he and his assistants were the only people allowed in."
Uefa delegate Thomas Giordano added: "The only unusual thing that happened as far as we are concerned is that Chelsea failed to present themselves in the press conference."
The referee is not expected to include any of the alleged incidents in his report to Uefa – weakening Chelsea's case.
Rijkaard criticised Mourinho's decision not to speak to the media after the match.
"There was a lot of talking before the game and now surprisingly there is a lot of talking after the game. It is not good behaviour after a match," he said.
"Maybe they want to start something and make it worse than than it is. I really don't understand it. I am very calm about it."