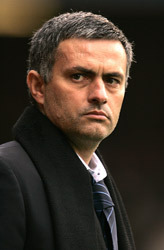 A coach carrying Chelsea's players and staff was surrounded by 50 jeering Barcelona fans as the English side arrived in Spain ahead of Tuesday's Champions League game.
Chelsea trail 2-1 after a first leg which saw Asier Del Horno sent off and their manager Jose Mourinho accuse Barca's Lionel Messi of acting.
Kieren Startup, a cameraman on Chelsea TV, told the club's website: "It was intimidating, there was a lot of aggressive chanting at Mourinho.
"But he ignored it and then they moved on to angry gestures and spitting."
Startup added that "everyone else on the coach seemed to be unbothered".
But he also said: "There were very few police to marshal it, and they didn't seem interested once the players got on the coach to stop any abuse."
Mourinho, who was a coach at Barca earlier in his career, merely smiled and applauded sarcastically as supporters jeeered and spat at the Chelsea coach.
Meanwhile Messi, the player accused of diving by Mourinho, has admitted he wants to silence the Chelsea coach by knocking Chelsea out of the competition.
"I want to produce the biggest match of my life against Chelsea to silence the mouth of Mourinho and his players.
"They claim I am an actor. They are wrong. I am a professional footballer and I have received many kicks this season. The actors are for the cinema and not for sport.
"I do not want contact with Mourinho because he was deceptive with me through his behaviour. He should look at the bruises on my legs.
"Del Horno has also had a lot to say about me but so he should because he got nowhere near me on the pitch until he fouled me."
Messi's team-mate Deco, the Portuguese international who played for Mourinho at Porto, added: "Mourinho has created himself this 'football personality' which he changes into when he wants to heat up a game or provoke opponents.
"That's not what he is like as a man or a coach when you play for him. But he has his own way of preparing for big games like this.
"We won't get involved in such foolishness. Our strength will be in playing our own game and repeating the level of concentration we showed in London."
Subscribe to World Soccer – The essential football magazine