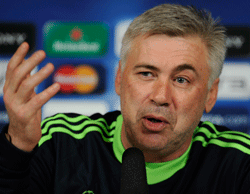 It's so tight at the bottom of the Premiership – whose your fancy to go down? We've got the best betting odds on every club here…
Carlo Ancelotti said his players must possess self belief and courage will be key if Chelsea are to defy history by completing a Champions League comeback at Manchester United on Tuesday.
Ancelotti revealed he plans to produce something "special" tactically after studying the first leg, won 1-0 by United at Stamford Bridge, but he said his players' ability to overcome the mental hurdle awaiting them at Old Trafford could ultimately determine the outcome.
Ancelotti said: "In Italy, we have a saying. 'If you have two, then you next have three'. They have to truly believe that we can win there. I don't know if they will be able to do this. But, at the start of the game, you have to believe that you can win."
Ancelotti knows his side need to produce a better performance at Old Trafford than they managed last week's first leg.
"To win there, you have to do 100% in everything," he said. "And not just 100%, but you have to use personality, courage, you have to control the game."
Ancelotti admitted his players were not showing enough teamwork at present.
"Everyone is trying to resolve this problem we have individually," he said after watching his side's 1-0 win over Wigan on Saturday. "Obviously, it's better to stay in focus and work more with each other.
"I'll watch the game one, two or three times. I want to try to do something special for the next game."
"I have to watch the game and prepare something that we can do to create difficulties. I have to explain to the players the ability of the opposing team. They can go to the movies without me."
It's so tight at the bottom of the Premiership – whose your fancy to go down? We've got the best betting odds on every club here…