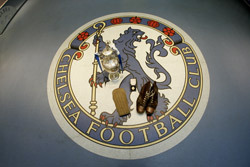 Will Man Utd get the Blues? Click here to find out the latest Manchester United v Chelsea odds!
Peter Kenyon believes Chelsea are on their way to eclipsing Manchester United and becoming the world's biggest football club.
Speaking ahead of their crunch game on Sunday Blues' chief executive Kenyon also said they will have to leave Stamford Bridge if they are to realise their ambitions.
"By 2014 we want to be internationally recognised as the number one club," he said. "But I think it's pretty clear we can't get to where we want to here."
"It's got to be within this area but that's what gives us the problem," Kenyon said. "We are pretty sure we can't expand. We've been working on it and I think it's pretty clear we can't get to where we want to here."
"We have certainly haven't overtaken Manchester United," he said. "Their fanbase is bigger than ours, their historical success is bigger than ours. There's no question that we are sat here saying we have overtaken them.
"I think what we're pleased about is [that] the growth of our fanbase is quicker than other football clubs, our revenue has grown dramatically and is now on a par with Manchester United. There are a lot of indicators there and the success of the team is the key driver."
Kenyon, meanwhile, does not think Sunday's encounter with United will have any bearing on the outcome of this season's Premiership title.
"Sunday is not the deciding game, as much as we try to build it up," added Kenyon. "I think we still have a long way to go in the season.
"I think the team is the best team we've had in the three years I've been here.
"In depth, I think the squad is tremendous, and I don't actually think we've seen the best of Chelsea at this stage in the season."
Kenyon also said coach Jose Mourinho was an integral part of the club's future.
"It is reciprocal – we are both important to each other," Kenyon said. "He is a critical part of Chelsea and I think Chelsea gives him what he is looking for in terms of fulfilling his football ambitions, which are enormous. He is the sort of person who doesn't relax, doesn't see that winning [the Premiership] twice is enough.
"From my early conversations with the owner about developing where we wanted to be, one of the key components is putting the staff in place that gives us continuity. If you look at the history of the Premier League, the two most successful clubs – and hopefully the third – have got continuity of managers. That can't be luck, can it?"
Meanwhile, Manchester United winger Cristiano Ronaldo claimed Chelsea would fall apart if Mourinho left the club.
"Mourinho is a great coach and he is Portuguese, so I can't speak badly of him," he said.
"I would like to see what would happen if he were to leave Chelsea. Perhaps they would stop getting good results."
"Chelsea are about the same as last year," added Ronaldo. "Andriy Shevchenko and Michael Ballack haven't changed them in terms of their superiority to everybody else.
"They have to work harder to win games and they only just do enough to win.
"The rivalry between us and Chelsea exists, but there isn't the same passion as the Manchester derby games or matches against Arsenal or Liverpool."
Will Man Utd get the Blues? Click here to find out the latest Manchester United v Chelsea odds!