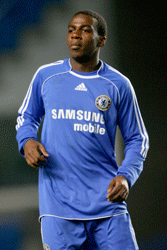 Scotland and Macedonia face off in a crucial World Cup qualifier and Simon Hopper has a strong tip to share – see his top bet here.
Chelsea's transfer ban, following their illegal poaching of Gael Kakuta, has highlighted the lengths clubs will go to in order to secure the best young talent. Two years ago World Soccer examined the methods employed by clubs such as Chelsea to circumvent FIFA regulations regarding the transfer of teenage players.
The following article was originally published in the June 2007 issue of World Soccer
This summer's transfer market will feature some of the game's biggest names, with the names of Samuel Eto'o, Kaka and Ronaldinho all set to appear in "will they, won't they?" stories throughout the silly season. But behind the scenes, away from the newspaper headlines and speculation, another battle is taking shape, as clubs go to increasingly involved lengths to scout and sign the world's brightest young talent.
The Bosman ruling transformed the European transfer market virtually overnight in the mid-1990s. Now, a decade on, clubs are taking advantage of European labour laws to recruit teenagers from across the continent. Even FIFA regulations forbidding the transfer of under-18s between continents has not deterred clubs. "There are ways round the rules," says one agent.
The rules are not exactly being broken but they are being sidestepped, particularly by top English clubs, whose scouting and recruitment techniques are becoming more and more sophisticated. Players are being "parked" at feeder clubs in foreign countries where employment laws are less strict than those in the UK. In the case of Carlos Vela Arsenal's 18-year-old Mexican, his whole family has being relocated in order to bypass the regulations.
Clubs are also taking advantage of loopholes in foreign contract laws to sign players. When it came to signing Cesc Fabregas, Arsenal took advantage of a Spanish law that prevents players signing professional forms until they have turned 18.
"It's a highly competitive market. Every club is trying to recruit the best players. In the last few years it has really intensified," says Les Reed, the former technical director of the English FA who helped set up Charlton's overseas scouting structure. "The net has been cast very wide compared to 15 or 20 years ago, when you focused on the boys on your own doorstep and a club would rarely go out of their catchment area to find players."
Spurred on by the example of Arsenal's multi-national youth academy, as well as Barcelona's signing of Argentinian starlet Lionel Messi at the age of 13, Europe's other leading clubs are indeed going further afield in the search for new talent.
Under Arsene Wenger – whose personal mantra is "I don't look at a player's passport, only his talent" – Arsenal have developed an impressive global scouting network headed by Steve Rowley. Through scouts such as Francis Cagigao (see Six of the Best: Scouts, page 54), Arsenal have been able to sign Fabregas, Spanish compatriot Fran Merida and other talents. But, critically, the network now extends beyond Europe.
Denilson, the Brazilian midfielder who made his debut for the Gunners this season, was prised away from Sao Paulo aged 18. Ivory Coast internationals Kolo Toure and Emmanuel Eboue arrived from the ASEC Abidjan academy in their homeland, while Vela was signed after excelling at the 2005 Under-17 World Championship in Peru, won by Mexico.
The scouting network is an integral part of the club, according to Cagigao. "Arsenal may not seem that different to Real Madrid or Barca or Valencia, but behind the scenes, the philosophy changes," he says. "The scouts feel an important part of the club. We travel to all the important matches and tournaments. In total, some 80 people make up this department. Few clubs can equal the investment that we make in scouting."
Paying dividends
The long-term approach is paying dividends, according to Cagigao, who sees crucial differences between the approach of English and Spanish clubs. "In the Premier League, there is more patience and common sense than in La Liga," he says. "The organisation of Spanish clubs is deficient because it is based on the results of the first team. It lacks patience and confidence."
For Wenger, the constant flow of talent from youth team to first team is proof positive of his approach. In an apparent dig at Chelsea, he said recently: "This is the work of five years and now to destroy what we have done by buying names would be crazy. To put a big name in front of players we have developed for years wouldn't make sense. I would say to the guy: 'Keep your £100million and invest it somewhere else.'"
Arsenal are by no means the only big club to have invested heavily in international scouting. Barcelona were able to sign Messi at 13 because the club agreed to fund a course of hormone therapy treatment for the youngster. The treatment process necessitated the wholesale transfer of Messi's family, with Barcelona also helping Messi's father, Jorge, find employment.
Barcelona also have Mexican teenager Giovanni Dos Santos on their books. Alongside Vela, Dos Santos was the star of Mexico's Under-17 triumph in 2005. Though under 18 when he joined Barca, it was just before the new FIFA regulations banning the transfer of minors came into force.
Earlier this year, Barca tried to sign 13-year-old Turk Muhamed from Besiktas, but failed to reach agreement with the club about compensation.
Bayern Munich have long been regular attenders of South American youth tournaments, where they have spotted future signings such as Paraguayan Roque Santa Cruz and Peruvian Jose Guerrero.
Other clubs are now attempting to play catch-up. Last year Real Madrid, aware of Barcelona's Messi coup, hired former national team goalkeeper Julen Lopetegui to head a new international scouting division.
Chelsea's much-publicised recruitment of Dane Frank Arnesen from Tottenham as their director of football was a clear statement of intent from owner Roman Abramovich that his chequebook would not always be open for big-money transfers. Nigerian teenager John Obi Mikel is now a first-team regular after his controversial summer arrival from Norwegian club Lyn. Israeli youngster Ben Sahar is on the brink of the first-team squad, while Chelsea's academy now boasts talent from Portugal, Spain, Slovakia, Denmark, Finland, Switzerland and Belgium.
In addition, Abramovich has been known to consult Dutch scout Piet De Visser on a regular basis. "He has been over to Holland a couple of times and is totally besotted with the youth academy at PSV," De Visser recently told Dutch magazine Voetbal International. "He has had a good look around. He has seen what he wanted to see. This is why he is now building a massive youth academy at Chelsea's training ground.
"I know why he is doing this. He is fed up that he keeps having to open his wallet and spend millions on new players. There comes a stage when you think it is pointless to spend so much, especially when it concerns players that Chelsea could develop within their own system or within their own youth academy.
Private scout
"Mr Abramovich had to pay an absolute fortune to get players such as Didier Drogba and Michael Essien. This is why he has asked me as a private scout to look out for top-class young players who will be the Chelsea stars in three years' time.
"In the meantime, we have to bring them on board and make sure they can develop as footballers away from Chelsea, in a different surrounding. PSV and Chelsea both benefit from my work."
That is a veiled reference to Alex, the Brazilian defender whom Chelsea insist is not owned by them despite the assertion by PSV coach Ronald Koeman that Alex "is a Chelsea player and PSV rent him because he is still not allowed to play in England".
Another Brazilian, defender Alcides, who joined PSV from Benfica in January, was described by UEFA's website as being "owned by Chelsea" and on a "long-term loan" to PSV.
While the big European clubs have established extensive scouting networks, smaller clubs are relying on agents to provide information on promising young players. "Agents have vast networks around the world and also have partnership agreements to look for talent," Reed says. "That's the raw material they are hoping to move on and make money from. Agents are much more sophisticated than the clubs in terms of identifying young talent. They do the work for the clubs and then recommend players to clubs in return for some financial deal down the line."
In the case of Messi, Barcelona paid an "introductory fee" to his agents once he appeared in the first-team squad.
Clubs scouting at major international youth tournaments must face up to the prospect that much of the top talent gets snapped up before they appear on the world stage. By the time Messi had starred at the Under-20 World Youth Cup in Holland in 2005, he was already well established at Barca.
Twin talents
Fabio and Rafael, the Brazilian twins who starred at the recent South American Under-17 Championship in Ecuador (see Six of the Best, opposite), have been tracked by Manchester United since they appeared in a South American Under-15 event.
In addition to the scouting networks, clubs are also developing more formal arrangements for securing talent. "Everybody is looking at ways to recruit talent if they spot it," Reed says. "Basically, there are two ways a club can do that. They can set themselves up abroad, running coaching clinics and soccer schools in an effort to develop a relationship with overseas clubs. The hope is that the local players will develop an affiliation with the foreign club. With Charlton, they were really just extensions of our Football in the Community scheme in England – working at grassroots level, teaching lessons and advising. The recruitment of elite youngsters comes as a consequence of developing community links.
"Then there is the more sophisticated development of relationships with clubs abroad so that it is almost like a farm club situation, where players stay until they are eligible to come over and play in England."
Arsenal, Chelsea and Manchester United have had close relations with Belgian clubs Beveren, Westerlo and Antwerp respectively.
The Gunners have denied allegations made by the BBC Newsnight programme that they had direct financial links with Beveren.
The Abidjan academy that produced Toure and Eboue at one stage also provided Beveren's entire first team. The Belgian club have since severed their links with the academy, and now Charlton have stepped in to develop a relationship.
Elsewhere in Africa, Ajax Cape Town have produced Steven Pienaar and Stanton Lewis for their parent club in Amsterdam. The South African academy run by FC Copenhagen has produced Elrio Van Heerden and Bongumusa Mthethwa for the Danish side. Auxerre's strong links with the Congolese federation's academy has supplied Francel Ibarra.
Lokeren, another Belgian club, have been active in several African countries. Their Satellite academy in Guinea produced Aboubacar Mbaye and Mamadou Diallo.
The future of Feyenoord's Fetteh academy in Ghana is in doubt as Jorien Van den Herik, the man who established the academy, is no longer club president. But two academy graduates are already first-teamers in Europe: Mohammed Abubakari at Feyenoord and Nana Asare at Mechelen of Belgium. In addition, eight players from the academy are playing in Ghana's Olympic team. Van den Herik has claimed that Asare has had a successful trial at Manchester United and that "he might go across the Channel soon".
As for English clubs parking players, the attraction of other European Union countries becomes obvious when the UK's strict employment laws are examined. In order to obtain a work permit, foreign players are required to have played in 75 per cent of their national team's matches over the previous two years. However, this requirement is waived if they have obtained a work permit in another EU country. Belgium, for instance, has long been a popular country for parking players. Meanwhile, Vela's move on loan to Salamanca could herald the regular use of the Spanish second division side by Arsenal as a stepping stone for the import of Latin American players.
With all aspects of youth development, domestic or international, there is no guarantee that a teenage protege will develop into a professional player. But by casting their nets as wide as possible, clubs are increasing their chances of unearthing the next big thing. And they are all too aware that if they do not do it, another club will.
Scotland and Macedonia face off in a crucial World Cup qualifier and Simon Hopper has a strong tip to share – see his top bet here.
For more fascinating features, subscribe and save 30% and use the below link?