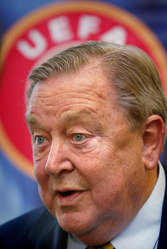 Chelsea and Barcelona have been told they will be monitored closely by Uefa during Tuesday's Champions League second leg tie at the Nou Camp.
Lennart Johansson, UEFA chief, said: "Both sides are aware they are being observed and they know what expectations we have of them.
"I'm quite glad to say I found out that there is a feeling of responsibility towards the public from both sides."
Chelsea suffered a hostile reception from Barca supporters when they arrived in the city on Sunday. It continued the bad feeling that has lingered between the two clubs since last year's meeting when Chelsea manager Jose Mourinho accused Barcelona counterpart Frank Rijkaard of influencing the referee.
Mourinho has been at the centre of controversy since accusing Barcelona youngster Lionel Messi of acting to get Chelsea full-back Asier del Horno sent off, with local newspapers in Barcelona dubbing him "a monster".
Johansson said: "I hope to see a match that pleases the spectators. I hope there will be fair play, no signs of racism and that the weather conditions and the pitch will be all right."
The Uefa president refused to single out Chelsea for criticism.
"The way they have tried to make arrangements with players and the squad they have now is excellent," he said.
"And again their coach is one of the best we have in Europe.
"I cannot be very critical with Chelsea or anyone else. Tell me a coach who has not made a statement at some time that he should not have done.
"He (Mourinho) has learned, and everyone has learned, that is does not pay to misbehave."
Subscribe to World Soccer – The essential football magazine.