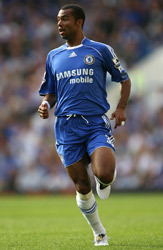 easyodds.com is the home of football betting. Click here for odds on every football match.
Ashley Cole has revealed that he joined Chelsea because he was unhappy that the Arsenal board made no serious attempt to keep him at the club.
The England defender asked for £60,000 a week in December 2005 but the Arsenal board refused to budge from their offer of £55,000.
"I don't believe the board gave a damn about keeping me, it preferred to haggle over a difference of £5,000," said Cole in his new book My Defence which is being serialised in The Times newspaper.
Cole says in his book that Arsenal vice-chairman David Dein had originally agreed to the wage demand.
The defender was driving his car and when he was told of the board's refusal to sanction the deal, and he claims he "nearly swerved off the road".
"I was trembling with anger. I suppose it all started to fall apart for me from then on," he added.
At a later meeting at Dein's house, Cole told him: "I feel betrayed and let down by a club I've given my heart and soul to."
The situation deteriorated further when Arsenal fitness coach, Tony Colbert, suggested the defender was faking an injury.
When Colbert heard Cole complain of an injury after initially declaring himself fit, he said: "What do you expect me to do, Ash, when you tell me you're OK and then come in here like you've just been shot?
"Be honest with me, are you just making out that it's worse than it actually is because you've got an eye on the World Cup?"
The incident proved to be the final straw for Cole.
"That was it," the defender continued. "I blew my lid. 'What!' I shouted, barely able to keep a lid on it, 'I need to play for Arsenal to go to the World Cup, so why would I hold back? The more I hold back, the less chance I've got of going to Germany! And you are insulting me'.
"For me it was one more person at the club doubting my loyalty. And it was the final straw."
Cole also contrasted the efforts Arsenal made to secure the future of Thierry Henry with his own situation. He felt that while Arsenal made a huge attempt to keep skipper Henry at the club, they appeared indifferent to Cole's position.
"The club made Thierry feel wanted and special, wooing him, wining and dining him, speaking in public about how much they wanted him to stay, going on a deliberate charm offensive," stated Cole.
"But me? I didn't have one dinner, one meeting or one phone call from anyone.
"That's not sour grapes, it's just a sad truth. The truth is that the Gunners had done nothing all season to hold on to me."
"My worst fears were confirmed when, as Thierry and I sat in the centre circle after the final whistle, his name was sung from the rooftops while my contribution was recognised by a deafening silence.
"As his chants faded away we waited for mine. And we waited. And there was nothing. 'They're not bothered about me', I said, resigned to the fact. It was like I was the invisible man."
easyodds.com is the home of football betting. Click here for odds on every football match.