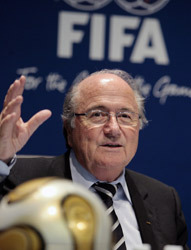 Arsenal, who haven't lost at home to Spurs since 1993, host the Lilywhites again in a huge North London derby this weekend – See all the best Arsenal v Tottenham odds at easyodds.com.
With only two weeks to go before the selection of the 2018 and 2022 World Cup hosts, FIFA President Sepp Blatter has acknowledged that collusion among voters was inevitable but he expected to unearth no more evidence of corruption.
FIFA President Sepp Blatter stressed that his 22-man executive committee were only too aware of the scrutiny facing the group before the December 2 vote in Zurich.
Blatter said it was obvious his executive committee colleagues discussed the contests because eight of the 22 eligible voters represent candidates. England, Russia, Belgium-Holland and Spain-Portugal are competing to host the 2018 World Cup. The 2022 contest involves the United States, Australia, Japan, South Korea and Qatar.
But he said they "heard and understood" his message that the entire world was watching FIFA.
"It has to do mainly with the commitment of these governments who have made a huge effort to represent their bids and make a personal effort to be present here," Blatter said.
Clean up
Blatter insisted the verdicts of an ethics investigation meant the secret ballot at FIFA headquarters can proceed with "all doubts cast aside." On Thursday, two voters and four other officials were suspended and Qatar and Spain-Portugal were cleared of striking a pre-vote deal.
"Now we go ahead and (the vote) will be good," Blatter said.
He said the bans imposed by the ethics committee gave Fifa a chance to "clean up" but that the investigation methods were not fair.
"I'm not pleased about that because this is not very fair but now we have a result, it gives us an opportunity to clean a little bit whatever has to be cleaned.
"But I cannot say that it is very fair when you open traps to entrap people. But if the objective is to have a clean sheet in football then I can understand it."
England bid unaffected
latter also contradicted reports which suggested that the scandal, published by a British newspaper, would undermine England's bid to host 2018.
The FIFA president said: "Why should this have an influence on the English bid? Human beings taking decision don't look so much at the documents in front of them so I don't think they will into consideration what has been published or not.
"That's my opinion."
Blatter, however, did not dispute suggestions that a Qatari-Iberian pact alleged by a British newspaper was in place, instead stating that FIFA's ethics committee could not prove its existence.
"They had not enough evidence. They haven't said it's 'blanco'," he said. "You cannot avoid collusion but if in such collusion there should be something wrong, then naturally somebody would intervene."
Deflecting the attention away from corruption, Blatter light-heartedly hinted at collusion involving UK Prime Minister David Cameron, who leads a coalition government and will help present England's case to FIFA' Executive Committee.
"They are enemies during the year then when it comes to fight another (political) party, then they come together. That is collusion. This has not been banned," Blatter said.
Persona non grata
Blatter revealed that former FIFA general secretary Michel Zen-Ruffinen was declared "persona non grata" at Friday's meeting for making the vote-trading pact allegation to The Sunday Times.
Another former employee quoted by the newspaper, Michel Bacchini, was also no longer welcome.
He confirmed that suspended voters Amos Adamu and Reynald Temarii will not be replaced by their continental confederations because both men are appealing against their sanctions.
Nigeria's Adamu received a three-year ban from all football activity for five violations of FIFA's ethics code, including agreeing to take bribes from the undercover reporters who posed as lobbyists trying to buy votes.
Reynald Temarii of Tahiti, the president of Oceania's confederation, was suspended for one year for breaching FIFA's loyalty and confidentiality rules when he was secretly filmed in the newspaper exposé.
Arsenal, who haven't lost at home to Spurs since 1993, host the Lilywhites again in a huge North London derby this weekend – See all the best Arsenal v Tottenham odds at easyodds.com.
A subscription makes the Christmas perfect gift. Give a lasting gift this year and save up to 33% when you subscribe.