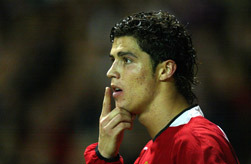 Manchester United's Cristiano Ronaldo has been arrested on suspicion of rape.
Scotland Yard has confirmed a man in his 20s was arrested after voluntarily attending a police station for on Thursday.
The arrest is part of an investigation into allegations of rape at a hotel in central London on 2 October.
A second man attended but was not arrested.
The allegations were made after United's 3-2 victory against Fulham on October 1, which led to the the Portuguese international staying overnight at a London hotel.
"We're not commenting at the moment," stated United's director of communications Phil Townsend.
The interview with the police is taking place with the 20-year-old and his lawyer in Manchester.