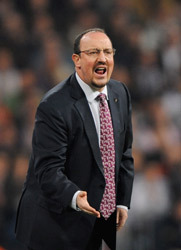 Inter coach Rafael Benitez says Roy Hodgson should focus on managing Liverpool rather than criticising his transfer record as Anfield boss.
Last week, Hodgson complained about the number of "expensive failures" at the club.
But speaking ahead of Inter's match with Tottenham, Benitez said: "He's talking about things that he doesn't know."
And somewhat cryptically, the Spaniard added: "Some people cannot see a priest on a mountain of sugar."
His Spanish colloquialism derives its meaning from the ease with which a priest's black robes could be spotted against the white of the mountain of sugar.
Inter play Spurs at White Hart Lane on Tuesday in a Champions League Group A match, having beaten Harry Redknapp's side 4-3 at the San Siro a fortnight ago.
The former Liverpool boss refused to accept Hodgson's criticism of "expensive failures" such as £20m midfielder Alberto Acquiliani and £11.5m winger Ryan Babel.
"I think that Mr Hodgson, he doesn't understand," insisted Benitez. "Every single press conference is even worse than the last one. He's talking about things that he doesn't know. And some people cannot see a priest on a mountain of sugar.
"Maybe he hasn't been in Liverpool too long. We gave the fans their pride again. We fought for the fans, we fought for the club and we fought for our players. So maybe he cannot understand this.
"With £10m net spending, I left that squad with £300m value, 13 internationals.
"So, instead of talking about flips and flops, he has to concentrate on his job, try to do his best and not talk about the level of his players or the new players.
"Concentrate, try to do your best because it will be the best for the club and it will be the best for the fans."
Responding to Hodgson's claim that Benitez had banned Kenny Dalglish from Liverpool's Melwood training ground during his time in charge, the Spaniard said: "I brought back Kenny Dalglish to do a role in the club and Christian Purslow gave him another role."
Italian newspaper La Gazzetta dello Sport has identified 15 muscle-related injuries that have affected Inter players since the start of the season, which has led to criticism of Benitez's training regime.
"All teams have injuries," said Benitez. "We have a certain amount of muscle-related injuries but 40% of them were picked up on national team duty. Also, 85% of them are recurring from last year.
"We're playing a lot of games of course but 80% of our training time is spent with the ball. We are playing a lot of games and we have half the recovery time now compared with previous years, and two years ago there were even more injuries here.
"You must remember that last year we played a lot of games in three competitions and we had the World Cup."
Make sure you don't miss any of the last news and articles from World Soccer. Subscribe to World Soccer today and take advantage of our all 50th anniversary offer, saving up to 50%!