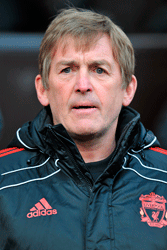 Can Southampton close the gap at the top of League One by winning at Oldham tonight? See the best betting here
Kenny Dalglish has admitted he would be "delighted" to accept the Liverpool manager's job on a full-time basis after Damien Comolli, the club's director of football strategy, confirmed caretaker boss will be considered for the post at the end of the season.
The 59-year-old was unveiled as Liverpool's temporary manager yesterday, 24 hours after his first game in charge for almost 20 years ended in FA Cup defeat at Manchester United.
Dalglish said he would be happy to step down at the end of the season, but he admitted he would stay on in any capacity if the club asked him to do so.
Asked if he would accept an offer to continue beyond the end of this campaign, Dalglish said: "If they think I can help then I'll help any which way I can. If that means I'm not here, then OK. If that means I'm here, then I'd be delighted with that. The football club is much more important than any individual that's ever been involved or is involved with it."
Comolli has been given the task of "putting together a criteria" for Roy Hodgson's permanent replacement, according to Ian Ayre, the Liverpool commercial director.
"What we're looking for is: competence, someone who will fit into the club's philosophy, the playing philosophy, and he has to be huge on man management," said Comolli.
"Those would be the three things that are most important to the club. The job is open to those people that I have described and, obviously, Kenny will come in to that category because he is exactly what I have described. Will he be considered? The answer is 'yes'. It will be a thorough search of where we want to go. But we will speak to Kenny about it and then see where it takes us."
Comolli also revealed the managerial change would not prompt a rethink on the owner's approach to transfers, with the Frenchman and Dalglish, like Hodgson before him, still having to convince them of a player's worth before a signing is agreed.
He said: "If Kenny is not happy with a player we think could make the team better, or if he doesn't think it is the right timing, then it is down to the manager. That hasn't changed from when I joined the club a few weeks ago."
Despite the possibility of a permanent managerial role at Liverpool, however, Dalglish insisted he understood his immediate remit from the owners and would not stand in the way of to any rival candidate.
"My understanding is it is until the end of the season and that is no problem for me," he said. "I've heard stories about me demanding this or that – when I was phoned early on Saturday morning it was a straightforward 'yes' and that was it for me. There are no conditions, no promises, nothing.
"If I do really well and somebody better than me comes along there will not be any problem whatsoever. I will not be obtrusive in any way, shape or form. I'm here to be of help to the club and if being of help to the club means Kenny Dalglish is not the manager, then no problem."
Can Southampton close the gap at the top of League One by winning at Oldham tonight? See the best betting here
Take advantage of the January sales by saving up to 36% on a subscription to World Soccer