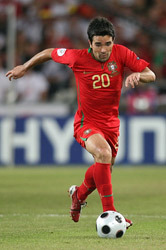 Premier League 2008/09 – click here to read full betting preview!
Deco has urged Robinho to join him at Stamford Bridge and help transform Chelsea's reputation.
Chelsea owner Roman Abramovich has made no secret of his desire to see more exciting football played at Stamford Bridge under new coach Luiz Felipe Scolari. Under former incumbent, Avram Grant, as well as his predecessor, Jose Mourinho, Chelsea earned a reputation as an efficient team, but not one to set the pulse racing.
The addition of Deco is expected to increase the entertainment quotient next season, and the Portuguese playmaker believes Robinho's signature would bring in some much-needed flair.
"Robinho is a spectacular player," he said.
"He's got incredible skill. He has magic and is capable of anything on a football pitch. His quality is amazing. It would be great if he joined us and he'd be made very welcome here.
"Everybody wants to see good football," Deco said. "The first rule for winning football is to make sure we play well. But, for all that we'll try to play good exciting football, our opponents are always going to be trying to stop us from doing that.
"Sometimes the games won't be as spectacular as we'd like.
"That's just the way it is. But this team has players with great quality who can play high calibre football. Good quality and exciting football.
"It's the responsibility of all the players to play exciting football, but I'm more than happy to assume that role. I'll take on the role of making the football exciting very happily."
Premier League 2008/09 – click here to read full betting preview!