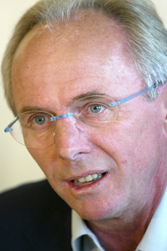 World Cup statistics, match previews plus all the latest betting information – Only available at easyodds.com – Find out more.
Departing England coach Sven-Goran Eriksson remains convinced that his adopted nation will one day win the World Cup.
England's period without winning the tournament will stretch to at least 44 years following their quarter-final exit on penalties against Portugal.
As Eriksson prepared to step down, he said: "It will happen in the future. England is almost there.
"It seems a long time and there are few opportunities, but England will win a big tournament.
"If you look at how we are playing and how others are playing, England is not number two to anyone.
"The problem with international football is that the big tournaments are only every second year.
"It is a long time to wait for the next one. The next World Cup is four years.
"It's different when you talk about winning the Premier League, the Champions League or the Uefa Cup.
"You have that chance every year, but I am certain England will win a tournament one day.
"I was convinced this year was the right time, but I was wrong and I'm very sorry about that."
And the Swede confirmed that he would be prepared to accept responsibility for England's latest failure.
"I will take responsibility for whatever you want," he added.
"I've tried to do the best I can. If that's not good enough you can say whatever you want.
"We shouldn't have gone out. It's our fault. We can't blame anyone else. I will take the blame, no problem.
"When you talk about penalties, I just don't know what happens. I was sure.
"We were very good in training almost every day, but we couldn't handle it and that's very bad."
Perfect preparation
Eriksson also claimed England were perfectly prepared for the heatwave conditions in Germany.
He said: "The preparation was perfect, fitness levels were perfect.
"We handled the heat very well, we've been preparing and taking advice from specialists about the heat.
"The atmosphere and spirit in the group was fantastic and you could see it on the pitch before the penalties."
Eriksson also defended his controversial decision to take Arsenal teenager Theo Walcott to Germany.
Walcott, 17, did not feature in the tournament.
Eriksson said: "I am sure I took the right players, and not for my benefit.
"It will have served Walcott extremely well for the future. He has been to a World Cup, knows how it is and it will be very good for him in his career."
The Swede denied suggestions that Spurs striker Jermain Defoe would have been a better option.
"I don't think so. If I had thought so I would have picked him," he said.
"I've seen him 15 or 20 times this season and I have to take the best players who I think will be good for us in the future."
Eriksson also backed Steve McClaren to be a success as England coach.
"He's very good," he said. "I have been working with him for five and a half years.
"I'm very happy for him and I think it's the right decision for the Football Association to take him on board.
"He's been doing very well for Middlesbrough, especially this season, taking them to the Uefa Cup Final. And he's been on the bench in the England squad for a long time.
"He's a very good coach, excellent coach. He gets on very well with the players.
"He's open-minded, he wants to learn. He will be a very good manager for England."
Asked if McClaren must take his share of the blame for England's World Cup exit he said: "No, don't blame him. Blame me, please."
World Cup statistics, match previews plus all the latest betting information – Only available at easyodds.com – Find out more.