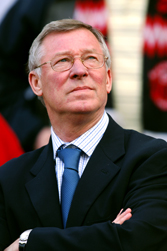 Manchester United manager Sir Alex Ferguson refused to discuss his future after his side were knocked out of Europe 2-1 by Benfica.
Ferguson said he had the core of another successful United side but claimed he neeeded time to complete the rebuilding.
But when asked if the club's new owners would give him that time, Ferguson said: "I am not going to answer that.
"(The media) will have plenty to say. I've got a job to do, it's a great job and I've confidence in my players."
Last night's result ensured that United fail to reach the knockout stages of the Champions League for the first time since the 1994-95 season. To add insult to injury, the defeat meant they do not even have the consolation of a place in the Uefa Cup.
"That is not a problem to me – we have a job to do and the rebuilding will carry on," Ferguson added.
"We are disappointed, there's no doubt about that.
"It's a blow and you have to regroup. This club has always risen from difficult situations and we will again."
Ferguson conceded that his team's home form earlier in the competition had been the source of their troubles in Europe.
"I think we depended always on our home form," said Ferguson.
"Even if we'd won the game I'd still be talking about our home form. That's where we've let ourselves down a little.
"We gave away possession far too easily so we only have ourselves to blame in that sense.
"We were desperate to win the match and with that came a sense of anxiety.
"I give my team 10 out of 10 for determination and effort but in the end it was not to be.
"You couldn't argue it was an unfair result, but I don't think it would have been unfair if we had got an equaliser either.
"We probably lacked that experience and ability and when we needed top players they weren't there," he added.
"The confidence is coming back into the team and in the last few (league) games there's been a growing sense of confidence in the club and they've played well."
Subscribe to World Soccer – The essential football magazine