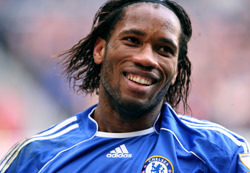 It's a big week of FA Cup 3rd round replay action; click here for fixtures and Best Price odds.
Didier Drogba has been axed from Chelsea's side to face Southend United in the FA Cup on Wednesday night.
In the wake of the Blues' 3-0 defeat to Manchester United on Sunday, Chelsea boss Luiz Felipe Scolari complained that some of his players had only performed to "35 per cent" of their potential in the last five games.
Drogba's omission from tonight's squad has placed a huge question mark over the future of the Ivory Coast striker.
Scolari also hinted at more major changes after giving his squad of highly-paid players enough opportunities to impress him since his arrival in the summer.
The chief beneficiary of Scolari's decision is Nicolas Anelka, who has been consigned to the bench since Drogba's return to the side following his from injury.
"I have looked at many games with Anelka and I have looked at the last few games with Didier," said Scolari. "I have my opinion and I will put my opinion on the pitch every game.
"All the players have had their chance. I have given every player at least five or six games to impress.
"Now we will start with one team against Southend United, and maybe I will start with the same team against Stoke City. But I need answers from the players. I will give them their chance and I need answers.
"If I have given players only one chance then maybe some of the players will complain that they have only had one opportunity.
"But when I have given four or five chances then there is no room for questions, it is my decision to play this or that player, and finish.
"In last five games we play at 50% of our potential. No more than this. Some players have been at 75 to 80% while others have been at 35 to 40%. But the balance for our team in the last five games has been 50%.
"If you ask me if this team are ready to win things then no. They are not ready to win a trophy and they know this. They might not say things publicly but they know we are not ready.
"The players have been trying hard and I know that and I understand. It is difficult for the fans and people outside the club.
"Do you think that any player will go on the pitch in front of 75,000 people and not want to play? Never. Sometimes they make mistakes because they are not in a good condition but not because they do not want to play. If this happened then they would be finished. I am a good man but I am not a fool.
"I understand people now don't have a very good opinion about me because we lost a game 3-0 against Man Utd. I know this but in my opinion, I am doing a good job."
It's a big week of FA Cup 3rd round replay action; click here for fixtures and Best Price odds.