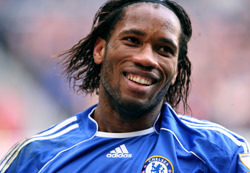 Chelsea striker Didier Drogba has admitted that he is tempted by a move to either Spain or Italy.
"Spain and Italy attract me a lot and, although I am a long way from saying farewell to Chelsea, you never know what can happen," Droga told The Sun newspaper.
"I'm at the last big turning point of my career.
"It's time for one final big choice 'should I stay or should I go?' I am tempted to discover another world and to see what footballing life is like outside England.
"It would be a big disappointment if I never manage to play for teams that I dream of playing for. That would be terribly frustrating."
The 29-year-old striker has concerns over the club's ambition following rows between owner Roman Abramovich and boss Jose Mourinho.
He added: "If I think the club lacks ambition, then it is sure I will not stay too long. I'm 29 and I don't have much time to lose.
"I believed in being loyal to a stable club. But it is clear that, in such matters, players dont control anything."
Drogba is under contract with the Stamford Bridge club until 2010.