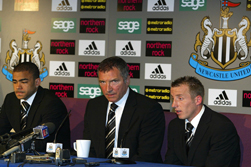 Newcastle midfielders Kieron Dyer and Lee Bowyer will discover their fate today as they face the possibility of being sacked by the club for Saturday's brawl.
The pair will meet Magpies chairman Freddie Shepherd, who earlier described their on-the-pitch brawl as the lowpoint of his Newcastrle tenure.
The Football Association will receive referee Barry Knight's report and they could hand the pair disrepute charges.
Dyer and Bowyer already both face a three-match ban for violent conduct.
"I could hardly believe what my eyes were telling me," said Shepherd.
I am deeply embarrassed, hurt and angry about what happened. It was just unbelievable.
"It was a black day for Newcastle United and I never thought I would see two of our own players fighting.
"I will be speaking to Graeme Souness and the two players. I need to see them face to face.
"There will be no kangaroo court and I do not want to speculate on anyone's future at this stage."
Captain Alan Shearer launched a scathing attack on the two players for letting the club down.
"Once again the good name of Newcastle United is being dragged through the dirt," Shearer told The Sun.
"What happened was a disgrace, there is no defence for it and I made my feelings known in the dressing room.
"I'm very angry still and very frustrated by it all, especially when things had been going so well and the spirit within the camp has been so good over the last few month.
"Our dirty linen has been hung out for the country to witness yet again."
Ex-Newcastle boss Sir Bobby Robson said he was surprised at the incident because of the fine form shown by both players in recent weeks.
As well as the mandatory three-match ban for a red card, both players are likely to face a separate charge from the Football Association and the Police are also set to investigate the incident.