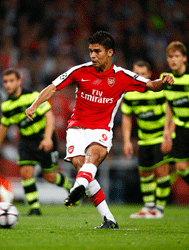 Besiktas have had a nightmare start to their season – can in-form Manchester United take advantage on Tuesday? Simon Hopper gives you his best tip.
Arsenal striker Eduardo has seen his two-match Champions League ban overturned by UEFA.
The Croatia international was given the ban after allegedly diving to win a penalty in the second leg of the qualifying encounter against Celtic.
Television replays showed that Celtic goalkeeper Artur Boruc had made no contact with the forward and UEFA subsequently charged Eduardo with 'deceiving the referee' and issued the two-game penalty.
The North London club immediately appealed against the ban and were rewarded by seeing it overturned by Europe's governing body.
A statement from Uefa on their official website read: "Following examination of all the evidence, notably the declarations of both the referee and the referees' assessor, as well as the various video footage, it was not established to the panel's satisfaction that the referee had been deceived in taking his decision on the penalty."
Arsenal welcomed the decision, claiming that they were able to prove that Boruc had made contact with the forward.
A statement on the club's official website read: "We are grateful that the appeal body focused on the evidence and made the right decision in this case.
"We were able to show that there was contact between the goalkeeper and Eduardo and that the decision of the Uefa disciplinary body should be annulled.
"We fully support the drive for fair play in football and believe it is important that Uefa provide clear and comprehensive standards that will be consistently enforced going forward.
"We are glad to put this incident behind us and concentrate on the games ahead."
Eduardo admitted he was relieved by the verdict.
He said: "I'm very pleased that we have finally arrived at the truth. All we needed to do was to prove what happened and we have managed to do that. This decision makes me feel a lot better.
"I certainly feel relieved now. I have had great support from my family, friends and of course everyone at the club.
"Now I just want to forget about this and think about our match against Standard Liege on Wednesday. I was always prepared for the match in Belgium because I had good feeling and I always remained positive about the outcome. Now we have a final result, I can now look forward to helping the team on Wednesday night.
"All I remember of the incident is that as soon as I had possession of the ball I headed towards goal at full speed. I was very close to the Celtic keeper and felt contact on my foot and then lost my balance. I know perhaps more than anyone else that when you have contact at speed it can be dangerous.
"I just want to say that I'm a fair player. To score goals you must take your opportunities and I'm not the type of player who needs to be dishonest to score goals."
Besiktas have had a nightmare start to their season – can in-form Manchester United take advantage on Tuesday? Simon Hopper gives you his best tip.
For more fascinating features, subscribe and save 30% and use the below link?