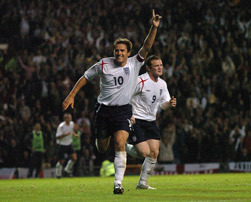 Michael Owen believes England have as good a chance of any of World Cup success next year in Germany.
Speaking after the 2-1 win over Poland which helped Sven Goran Eriksson's team to win Group 6, Owen delivered an optimistic message to England supporters.
"We're very confident ahead of Germany. I wouldn't swap our squad for anyone else's," he said.
"We've a good team and a good squad, and although you always need luck, we feel we've got a really good chance."
Owen said England's win against Poland vindicated his pre-match claim that Sven-Goran Eriksson's side would flourish against quality opposition.
He said: "I think this was a big improvement on our recent performances. The players know as well as anybody when we haven't done well.
"We played against a good Poland side that came to Old Trafford to have a go, and in some ways that makes it easier for us to play, which was the point I was trying to make.
"It's not us that tries to spoil games like some teams do when they come to England, and even when we go to certain countries they feel 0-0 is a good result against England.
"Poland tried to attack and sometimes it is easier when you are playing against a side that fancies its chances against you and vice-versa.
"I thought it was a good game and what I would call a really good 'English' performance – there were tackles, it was played at pace, we created chances and did things at a really good high tempo.
"We needed a performance to give everyone a boost and I thought we did that. It was a very decent game.
"We are optimistic about the World Cup, but you need luck to run for you. You don't want people getting sent off or what happened in Portugal at Euro 2004, when Wayne Rooney got injured in the quarter-final."
Owen's optimism was mirrored by coach Eriksson who sees England as one of the potential winners of next year's competition.
"We needed to turn our form around after starting the season so-so but now we are there again," said the Swede after his side topped Group Six.
"If we can keep this spirit and quality we will be very difficult to beat.
"We won the group and lost very few points in 10 matches and I'm extremely happy for the players and the staff," added Eriksson.