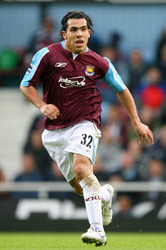 Europe's top sports regulator has confirmed he will not interfere in the row between Sheffield United and the Premier League over the Carlos Tevez affair.
United, relegated on the last day of the season, claim West Ham should have been deducted points instead of being fined over their handling of the Argentina forward's transfer.
United chairman Kevin McCabe said yesterday he would be discussing the issue with the European Commission in Brussels on Friday, but a spokesman for EU Sports Commissioner Jan Figel said the question of the Tevez transfer was not on the agenda.
"The meeting is taking place between Sheffield United and someone from our directorate about their Campaign for Fairness in Football. The meeting is not with the Commissioner," spokesman Frederic Vincent told Reuters.
"I'm sure they'll want to say a word about their upcoming (Premier League) arbitration concerning the Carlos Tevez affair. But it has been made clear from the start by us that the Commission cannot and will not intervene in a national issue."
Figel is currently writing a report on how sport should be run across Europe. The paper will cover the issue of transfers and players agents.
"The Commission hopes to clarify a lot of legal matters with this process, but it also has to be careful not to send out a message that sports organisations can come running to Brussels every time there is a problem," a Commission official added.