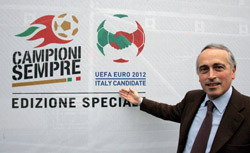 Compare football odds from over 25 bookmakers and claim £500+ in Free Bets. Click here for offer!
Uefa's executive committee will decide today on the hosts for the 2012 European championship.
Italy are the favourites to win the vote although they face strong competition from two joint bids from eastern Europe, with Hungary in tandem with Croatia and Poland's joint effort with Ukraine.
Despite the recent problems in Italian football, which is recovering from a corruption scandal and is suffering from outbreaks of hooliganism, Italy is expected to command significant support on UEFA's 11-man comittee.
""You cannot overlook two things – the first concerns the current image of Italian football after last year's match-fixing scandal, the death of the policeman in Sicily in February and the trouble at the Roma-Manchester United match in the Champions League," a source on their bid team admitted.
"You also cannot ignore the fact that Michel Platini [the new Uefa president] has said that eastern Europe should play a bigger part in European football. We are just hoping that Platini's strong links with Italy will help our bid."
But Luca Pancalli, the extraordinary commissioner for the Italian Football Federation, said: "I am optimistic."
"Paradoxically, I would have had many more doubts if what has happened had not taken place," added Pancalli.
"We have never doubted. Firstly, because violence is not a problem inherent only in Italian football. There have been problems elsewhere.
"Added to that, the political classes, the Olympic Committee (Coni) and the federation have responded seriously and quickly, like never before."
Meanwhile, Polish football is still recovering from a huge corruption scandal, while Ukraine is beset by political problems and in neither country is the infrastructure currently in place to handle a tournament of this size.
Nonetheless, there was confidence in the Polish camp on the eve of the vote.
"Over 70 persons have been arrested on this issue," the country's president, Lech Kaczynski told a joint news conference with Ukraine President Viktor Yushchenko in Cardiff on Tuesday night.
"I think we have done enough to be forgiven and stop such practices happening in the future."
Hungary and Croatia also sounded confident about their chances of hosting the 2012 finals.
"I am certain we will win the right to host," said president of the Croatian Football Association Vlatko Markoviction.
"I was there at the previous presentations of bids and we fared the best. While we arrived with one thousand pages of material, others only had a thin booklet to show."
Hungary's Euro 2012 project manager Tamas Gyarfas added: "Italy is a football powerhouse, they are world champions, but I hope this race will be won by the candidate with the best bid."
Read the thoughts of World Soccer editor, Gavin Hamilton, on today's vote
Compare football odds from over 25 bookmakers and claim £500+ in Free Bets. Click here for offer!