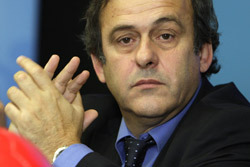 Australia are the new Asian Cup favourites after thrashing India 4-0 last night – see all the latest betting
More than half of Europe's top flight clubs are still in the red, recording losses of €1.2 billion about a year before UEFA's new financial rules kick in.
"Two years ago almost 70 percent of clubs were in the red," said Gianni Infantino, secretary general of European football's governing body.
"At present there are still 56 percent – that means more than half of all professional football clubs are in the red," he told journalists as UEFA unveiled its club licensing report for 2009.
The 655 top division clubs scrutinised by footballing officials received €11.7 billion in revenue in 2009, an increase of 4.8 percent.
"However, the figures demonstrate that we were right to ask for more financial discipline because the reported costs were €12.9 billion, an increase of 9.3 percent," said Infantino.
That brought their collective losses up to nearly €1.18 billion, an 85 percent increase or "almost double the previous record", UEFA said in its report.
UEFA's complex new financial fair play rules are due to come into affect from the 2012 financial year, with sanctions likely to be enforced two to three years later.
If they were applied now, 11 clubs would "potentially" have been excluded from this season's Europa League and Champions League, according to Infantino.
UEFA President Michel Platini said there would be no "finger pointing" or banning of clubs for the time being.
But he stressed that the forthcoming rules would be crucial for football's future.
"It's a complicated problem, that we consider vital for the future of football," he explained.
"There won't be any witchhunts today but on the other hand we won't hesitate to clamp down."
Platini, who said the scheme was "very complex but vital for the future of football", was keen to stress that the credibility of UEFA rested on the implementation of these plans.
"We have no wish to see clubs that are part of the heritage of football disappear because of bad management," he said. "We want to protect a certain type of football that is fairer and more ethical. The majority of clubs also seem to want to act more ethically."
Australia are the new Asian Cup favourites after thrashing India 4-0 last night – see all the latest betting
Take advantage of the January sales by saving up to 36% on a subscription to World Soccer