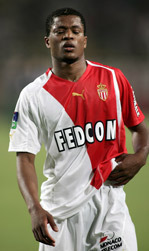 Monaco expect defender Patrice Evra to join Manchester United next week.
Frenchman Evra, 24, is in dispute with Monaco and was withdrawn from the squad which played Auxerre on Thursday.
United boss Sir Alex Ferguson confirmed that a deal had been agreed.
"The deal is done, he will come in Monday," said Ferguson.
"We have been looking at him for some time since Gabriel Heinze was injured in September."
Meanwhile, Monaco vice-president Gerard Brianti confirmed: "There is a real common desire to complete the deal, I am very optimistic. We are on the same wavelength and will reach agreement."
Evra's agent Frederico Pastorello said: "We are 90% done and will gather at the start of next week to seal the deal."
Pastorello confirmed he had conducted negotiations with United chief executive David Gill and Monaco officials to complete the deal.
"We really did a good job, we cleared out a lot of things and made huge progress," he told L'Equipe.
"Manchester are becoming the most probable destination of Patrice.
"Only a few little details have yet to be sorted out but nothing that can overturn the deal now."
Although no fee has been mentioned, it is expected to be in the region of £5.5m.
Sir Alex Ferguson sees Evra as a solution to his problems at left-back following Gabriel Heinze's long-term injury.
Subscribe to World Soccer – The essential football magazine