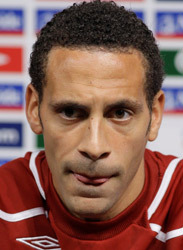 Easyodds tipster Simon Hopper thinks Northern Ireland's makeshift squad could struggle against Morocco on Wednesday – see his football tips for Northern Ireland v Morocco.
England skipper Rio Ferdinand admits that young players should kimit their alcohol intake if they want to do themselves justice at the top level of the game.
Ferdinand's was speaking in the wake of several high profile players being in the headlines for alleged drinking sprees in recent weeks.
Manchester United defender Ferdinand concedes alcohol was part of the culture associated with the game and players during the early part of his career.
He said: "In all ways and shapes, you have to accept responsibility. Nowadays you have a game Saturday, then Tuesday, then Saturday, then Tuesday. There's no room in the game to go out on the lash and get smashed like you used to. That was part of the culture when I was growing up as a kid. The players I looked up to at West Ham, their social lives were a big part of their lives.
"Nowadays, you can't afford to do that. You're playing against teams that are physically in tip-top condition. If you're going out there and are not in the same physical condition, you can't do yourself or your team justice. There are so many different factors that determine whether you become a top player. But going out drinking will definitely be to your detriment and will hold you back from being a top, top player.
"Your own personal pride and will to win and be a success, should make you sit and think 'I can't do that on a Saturday night if I've got a game on a Tuesday or Wednesday'. If you've got a free week, there's no problem going out, enjoying yourself and letting your hair down.
"You don't have to live like a monk. But you've got to pick and choose your right times. It's about managing yourself right. As a young player, sometimes you take certain steps and then learn from them. Some people aren't going to be told 'you can't go out'. They want to find out themselves and will make mistakes along the way. They have to be strong enough to pick themselves up and carry on."
Ferdinand admits he learnt from his own mistakes and used Michael Owen as an inspiration as to how to look after oneself.
He said: "You benefit football-wise. It's not just that you want to become a better professional. You become a better player, in simple terms. Look at someone like Michael Owen. I've always used him as an example because we came through at the same time, went to the 1998 World Cup, and we had two different outlooks on life.
"I was a social butterfly. He was a real professional who had a good structure around him and knew exactly what he wanted to do and where he wanted to go. It took me longer for me to get where I am than it took him. Looking back, the Nevilles, people used to laugh at them, saying they were 'so professional' and this and that. But they were good professionals at a young age. Look at the length of their careers now."
Ferdinand accepts that drinking is part of the British culture in general and is not just part of the footballing way of life.
"It's society," he continued. "I went to my old football club (Eltham Town) at the weekend, on Sunday, and the culture is what it is in England. You go and play a game and, afterwards, you go to the bar and have a few pints. That is what people do. There's a clubhouse there where people sometimes go after work. It's part of the social network. As a footballer, you have to detach yourself from that. It can be hard if you've been brought up like that.
"It's not just football, it's in society. Kids have to make decisions and choices in life. Just because you're a young footballer doesn't mean you're more mature. You've got to make yourself more mature. It doesn't just happen."
A subscription makes the Christmas perfect gift. Give a lasting gift this year and save up to 33% when you subscribe.
Easyodds tipster Simon Hopper thinks Northern Ireland's makeshift squad could struggle against Morocco on Wednesday – see his football tips for Northern Ireland v Morocco.