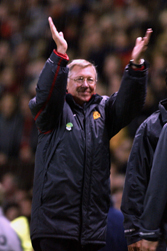 Sir Alex Ferguson will his 1,000th game in charge of Manchester United tonightwhen his team play Lyon in the Champions League.
"It's the perfect game for it, the European tie," said Ferguson.
"Some of my greatest moments have been in European matches and hopefully we'll have another one against Lyon."
Ferguson admittted he had changed since joining United in November 1986.
"Physically I have changed – I am a bit older. And emotionally, I've changed a little bit too.
"I have also mellowed a lot."
The Scot joined United after a hugely successful spell in charge of Aberdeen.
His first match was a 2-0 defeat to Oxford United in the old First Division on 8 November 1986.
It is widely believed he was on the verge of being sacked before a Mark Robins goal won an FA Cup tie at Nottingham Forest in 1990.
His team went on to win the trophy that year – and since then have collected eight Premiership titles, four more FA Cups and one League Cup, as well as a Champions League and Cup Winners Cup success.
In total, he has won 563, drawn 188 and lost 248 of his 999 games in charge at Old Trafford.
"Sir Alex can feel very proud, not just of the time he has spent here, but with what he has achieved in it," said Carlos Queiroz, Ferguson's current assistant.
"For one man to spend 18 years at a single club is very unusual. Sometimes in Portugal, where coaches can lose their jobs before the season even starts, 18 days can be considered a good achievement.
"I have moved around the world quite a lot during my own career but no matter where I go, Sir Alex is held in great esteem and is a role model for us all.
"He has created a template other managers try to follow and everyone can take positive lessons from the work he has done down the years.
"Sir Alex is the leader of this club. Everything that happens at Manchester United comes from him.
"He is the one who sets the mission for us. He presents the challenge. Everyone knows their responsibility and that is due to him.
"He creates a sense of passion and makes sure each of us knows that millions of people relate to the work we do.
"We care about everything we do because it has such a huge impact on so many people's lives.
"Dealing with the knowledge that the happiness of those people is derived from the success of our work is not easy.
"But it is something that Sir Alex has handled every day of his life for the last 18 years. That is why the achievements and milestones he has reached are so completely remarkable."
In recent years, Ferguson biggest domestic rival has been Arsenal manager Araene Wenger.
He said: "Of course, it's fantastic – to reach 1,000 games means you have suffered a lot and worked hard. I congratulate him."