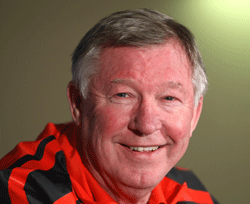 Porto are now a best price 13/8 to win the Europa League after the quarter-final 1st leg results…
Manchester United manager Sir Alex Ferguson has responded to the police chief who claimed Wayne Rooney's conduct against West Ham was worthy of arrest.
Rooney was handed a two-game ban by the FA after swearing into a television camera at Upton Park last Saturday.
Now Ferguson has accused superintendent Mark Payne of courting the limelight with his assessment of the situation. "Everyone has an opinion today," he said.
"There is an issue in the modern world of a need to be noticed. There is a wee guy, sitting down there in the Midlands, probably never been recognised in his life, managed to elevate himself to whatever it is in the police force.
"Have you ever seen Wolverhampton on a Saturday night? Do police ever arrest anyone for swearing on a Saturday night? Deary me. That is a good one."
Ferguson has also expressed sympathy with referee Lee Mason, who he feels was unfairly criticised in the wake of the West Ham fixture.
"The one I feel sorry for is Lee Mason," he said. "He has put himself in a terrible position. He has been put under pressure. There is no doubt about that.
"It is hard to imagine the referee would send a player off for scoring a hat-trick. But he has now put himself in the spotlight. If he doesn't send a player off for swearing the question will be, has he got double standards.
"It is a very difficult position the lad is in. I feel for him. I really do. I don't know where his career is going to go now. I think he was put under pressure."
Rooney was unsuccessful in his bid to overturn the suspension, and Ferguson has suggested his plea for a rethink was pointless.
"We put an appeal in, and the lad's wrote and apologised for swearing, but obviously I don't think we expected to get a result, to be honest with you," he said.
Porto are now a best price 13/8 to win the Europa League after the quarter-final 1st leg results…