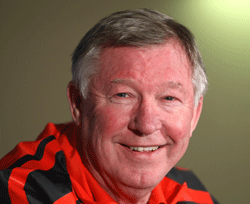 Spain are now a best price 7/2 for Euro 2012 following the latest round of qualification matches…
Manchester United manager Sir Alex Ferguson has defended Chelsea boss Carlo Ancelotti, from recent criticism.
Speaking ahead of Wednesday's Champions League between the two sides, Ferguson said he thought criticism of the Italian was unfair.
"I cannot understand how you can criticise Ancelotti, who won the Double in his first season at Chelsea," Ferguson told Gazzetta dello Sport. "It's the fault of the current media atmosphere.
"They invent problems where there are none. I am certain Carlo reacts like me. He ignores the media so that your decisions, your philosophy and your mental health are not affected by it. How can Chelsea think of changing a coach like him?"
Ferguson also defended Chelsea striker Fernando Torres who has come in for criticism for his failure to score since his £50 million move from Liverpool in January.
"Of course he will start scoring," the United boss said. "I just hope he waits a little bit, at least until after the tie against us.
"When Chelsea signed him, everyone said what a great signing he was, and rightly so. Now everyone says that it was a mistake. Can people be more ridiculous? Of course he needs time to adapt."
Ferguson also said that Real Madrid coach Jose Mourinho would have to wait to replace him at Old Trafford as he has no intention of retiring imminently.
"Jose is a great friend of mine," Ferguson said. "We have spoken many times about his future and I understand his wish to return to England because here a coach has more freedom than in Spain, without the constant following of the media and radio.
"But it's difficult for me to say when my position will be available. It will be my health that decides. I will continue until I no longer feel the energy that has always accompanied me.
"My father, who worked in the shipyards, retired at the age of 65 and one year later he was dead. The worst you can do is to say I have worked for 45 years and now I have a right to rest. You need to always remain active and in good form.
Spain are now a best price 7/2 for Euro 2012 following the latest round of qualification matches…