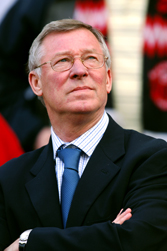 Sir Alex Ferguson has admitted Manchester United can no longer compete with Chelsea in the transfer market.
Ferguson says he will have to look elsewhere for players if Chelsea are also interested in signing a particular player.
"I do not think we would even think about competing with Chelsea," the United boss told Century FM.
"If Chelsea go for a player we are interested in, we are not going to beat them, so there is no point even going for him."
Ferguson has seen several targets Arjen Robben, Damien Duff and Michael Essien all turn down the chance of a move to Old Trafford in favour of money on offer with Chelsea.
With Chelsea bankrolled by Russian billionaire Roman Abramovich United are not alone in their inability to match the sums paid by the Premier League champions.
Although new owner Malcolm Glazer has vowed to back a major transfer plunge in January, Ferguson believes United cannot compete financially with Chelsea, "unless, like Park Ji-sung, they are of a mind to join United."
Ferguson is now emphassising the club's youth system as a means of securing the club's position in the future.
"Any young player wanting to progress his career should think seriously about joining us because, as our record proves, we do give them a chance," he added.
"I am trying to lay the foundations for Manchester United and I want to build something that will last for years, not two minutes."