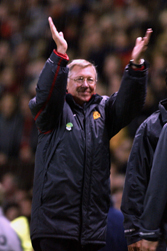 Manchester United boss Sir Alex Ferguson believes Arsenal's Robin van Persie should have been sent off after his clash with Kieran Richardson in Wednesday's Carling Cup encounter.
Ferguson accused the Dutchman of elbowing the United midfielder during the Old Trafford tie.
"He was lucky to stay on," he said. "It just exploded with Van Persie's behaviour just after half-time.
"I think the FA will have to take a look at that. I think he threw an elbow at the boy," added Ferguson.
Arsenal boss Arsene Wenger admitted he considered withdrawing Van Persie.
"I did fear it was going to be worse than a yellow card, it could have been," admitted Wenger.
"Robin shows great potential but he has to learn to keep his nerves under control and not get over-excited.
"I considered bringing him off because he was involved in some heated moments."
United's 1-0 win earned them a semi-final encounter with Chelsea.
Ferguson confirmed he will resist the temptation to bring back some of his first-team regulars for the two-legged tie.
"They are one step from Cardiff and I'm going to stick with them in the semi-final – I think they deserve it," said the United boss.