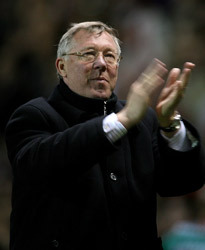 Compare football odds from over 25 bookmakers and claim £500+ in Free Bets. Click here for offer!
Manchester United manager Sir Alex Ferguson has described the 7-1 victory over Roma as the club's greatest European night at Old Trafford.
The win gave United an 8-3 aggregate win and earned them a place in the Champions League semi-finals.
"It was a fantastic performance by every one of our players," purred Ferguson. "The speed of our play and our penetration was absolutely superb.
"That's absolutely the best night of European football we've had here.
"We never expected to win 7-1 but the quality of our game was so high," said Ferguson.
"The fact that three English teams are in the semis probably makes our league the best in Europe.
"Six or seven years ago Spanish football was the best. But on the evidence of this season Barcelona and Real Madrid are not as near to where they were in previous years, while the competitive nature and the quality of the English game has improved over the seasons."
And Ronaldo, who scored two of United's goals, insisted the result was no surprise, saying: "Every player is very confident, they have a lot of belief in themselves.
"Everyone still believed we would get through tonight, but it is an unbelievable result.
"To win 7-1 against Roma in a quarter-final is just great. It is amazing for the players and the club, but now we need to think about the semi-final."
"I really have no preference who we get now."
Michael Carrick, who produced his best performance since joining United last summer, added: "To start so well and carve up the chances and score the goals we did was a great feeling. To carry it on for the full game was the stuff of dreams."
Roma coach Luciano Spalletti was left bemused by his side's capitulation.
"It's difficult to explain what happened, especially because the team played well in the first 10 minutes," said Spalletti.
"Then the first time they attacked, they scored. We failed to respond to their enthusiasm and our inexperience cost us dearly against their counter-attacks."
Compare football odds from over 25 bookmakers and claim £500+ in Free Bets. Click here for offer!